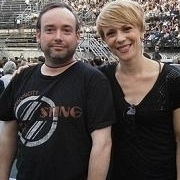 Name: Roger Puplett

Username: rpuplett

Location: Cheltenham, UK

Been a fan since: Since I first heard 'Message in a Bottle' on Capital Radio in 1979!

Favourite Sting song: 'Be Still My Beating Heart', it is also one of my favourite music videos. I actually think it's a very romantic song, where in fact the opposite is really true. Sting has described the lyrics as being about suppressing your emotions and described it as an uptight song on occasion. What that tells you about me, I have no idea.

Favourite Police song: 'Secret Journey', this song almost conjures up a mythical status all of its own. I love everything about this song, the build up at the beginning, Andy's guitar playing, and Sting's bass riff is amazing, as is Stewart's drumming on this track. Technically I think this song is one of the best audio mixed I have ever heard, I have been on some amazing journeys listening to this song.

Favourite Sting album: 'The Soul Cages', a most stunning and complex album ever to reach number 1 in the UK. Nothing beats listening to this album whilst walking around Newcastle and the banks of the Tyne. You never know who you could meet on the Millennium Bridge.

Favourite Police album: 'Reggatta de Blanc'..

Most memorable concert: All the concerts I go to are memorable in their own special unique way; I even survived the Isle of Wight Festival with Carter! It's an impossible question akin to asking who your favourite friend is, as I like you all! The Police Fan Club concert in Vancouver is the one that I look back on and say, that quite literally changed my life for good. How I managed to get the time off work, I can't even remember, I still pinch myself now, that I was actually there. I still get excited even thinking about it, the anticipation, the excitement, the Fan club pre-show, meeting all the other fans at the gig and the concert itself. This was the catalyst which started me on an even longer tour and subsequent set of adventures which was a once in a lifetime event. Call it fate or was it Synchronicity, but that evening I was standing next to a beautiful singer/song writer/producer who was responsible for Lady Gaga getting a record contract. I will always remember what she said to me during the opening chords of 'Synchronicity 2'! I think my sister gave the appearance during the concert that 'those couple of characters over there, are not with me'.

Other favourite bands: Peter Gabriel, U2, Billy Joel, Don Henley, Level 42, The Eagles, Chicane and a varied collection of dance music and remixes.

In your own words: Sting's music is very much an integral part of my life, as is music in general. I was a club DJ for twenty years and love going to concerts and travel extensively. I'm at my happiest on my Sting adventures and visiting my friends in Canada. I keep saying, I probably have three books inside me waiting to see the light of day. I always meet such wonderful people on my travels, and I'm always surprised how many people remember me. Although I have been mistaken for Ricky Gervais once, I hadn't realised he had lost so much weight...