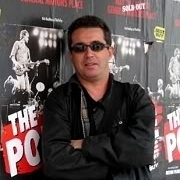 Name: Antoni Carbó i Bueno

Username: Antoni

Location: Barcelona, Catalonia

Been a fan since: 1980

Favourite Sting song: 'Secret Marriage'.

Favourite Police song: 'So Lonely', 'Bring On The Night', 'Message', 'Shadows In The Rain'...and... more.

Favourite Sting album: Nothing Like The Sun.

Favourite Police album:

Most memorable concert: The Police 11 April 1980 in Barcelona & Amnesty World Tour 1987-88 at Barcelona Nou Camp FCB.

Other favourite bands: David Bowie, Peter Gabriel, Elvis Costello, Eurythmics, Fiction Plane, Burt Bacharach, Ray Charles, Coldplay, Genesis, Yes, Joe Jackson, Ramones and more.

In your own words: SUPPORT THE POLICE!