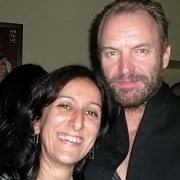 Name: Valeria Vanella

Username: vanella

Location: Napoli, Italy

Been a fan since: I've been a fan since 1981. It all began with an Italian TV show, its opening theme was 'Every Little Thing She Does...' That was my very first Police record, I was 12 years old… and I still love it!

Favourite Sting song: What can I say? The first one that comes to mind is 'The Secret Marriage'. I simply love his voice (!), besides I also love the sound of Sting's intake of breath before a verse. Another song, but there I could go on forever, is 'Ghost Story', because it makes me feel my father near me.

Favourite Police song: 'Synchronicity II', because of a journey in Scotland, where the light and the lakes, oops lochs, were exactly the same as described in the song.

Favourite Sting album: '...Nothing Like The Sun', perfect! Nothing else to add!

Favourite Police album: 'Synchronicity', but I change my mind every day. If you ask me tomorrow it will be 'Outlandos', the day after 'Ghost In The Machine'…

Most memorable concert: Difficult to decide... maybe the first in my hometown. It was 1991, The Soul Cages' tour. I was already used to being in the front row, but that one was only a metre distant from stage! I couldn't believe how close to Sting I was. During the show was happily dancing and Sting looked me in the eye. An unforgettable magical moment! I'd like to add to the endless list of memorable concerts the last one n London, October 2, Royal Albert Hall: is there anyone who can forget Sting's laughs because of those birthday balloons falling from ceiling?

Other favourite bands: Well, I don't play or sing, at least professionally, but I like to listen to every kind of music, actually. From classical music, even opera (I have a season ticket for the San Carlo theatre, the oldest continuously active opera house in Europe), to some Italian singer-songwriters, being Samuele Bersani one of my favourite. In between I try not to miss opportunities to listen to good music, even if I must confess that I travel abroad for Sting only, so for other musicians I usually attend local shows.

In your own words: There are lot of things that I like to do, but the main theme is always The Music. One of my greatest passion is the ballet (when I was younger I studied to become a dancer), even if it is very difficult to have more than classical dance here in my home town. I also like to travel a lot, and attending Sting and Police concerts all over Europe gave me great chances to visit new places and meet new friends. I met some true friends through the fan club, the Italian one also, and I'm really proud to be part of this special special crazy group.