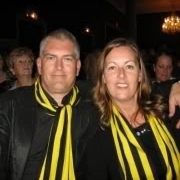 Name: Tracey & Jim Campbell

Username: tcampz

Location: Windsor, Ontario, Canada

Been a fan since: Tracey: My friend from England suggested I listen to the Police and I did. I loved the band and we were lucky enough to see them on the 'Synchronicity' Tour in 1983. We've been following Sting ever since then. Jim: Since their first album came out. I was in high school then and especially liked 'Can't Stand Losing You' and 'Driven To Tears'.

Favourite Sting song: Tracey: I always loved 'Fragile' and even through Sting's many songs and albums, I still love 'Fragile' the best! It's a special treat these days when he sings it at a concert. Jim: One of my favourites is 'After the Rain has Fallen' because it's got a great beat.

Favourite Police song: Tracey: There's so many great songs, it's really hard to pick just one, but one of my favourites is 'Hole In My Life'. There's a lot of energy to it (especially when the Police sang it on the Reunion Tour). Jim: I always like 'Demolition Man' - it's just a good rockin' tune!

Favourite Sting album: Tracey: I tend to love the newest album to be released since it's new and I can listen to it endlessly, but I think 'Brand New Day' would have to be my favourite. Jim: 'Ten Summoner's Tales' and 'Brand New Day' as a close second.

Favourite Police album: Tracey: 'Outlandos d'Amour', but I love them all. Jim: 'Reggatta De Blanc' and 'Zenyatta Mondatta'.

Most memorable concert: Tracey: Since it's the most 'memorable', I would have to say the Vancouver Fan Club show for the Police Reunion Tour. The anticipation was amazing and meeting all the fans and exchanging stories was great. We've kept in touch with lots of fans since then. For the Sting shows, I think it's the Detroit Opera House on the 'Brand New Day' Tour since it's the first time I had front row. How can anyone forget a concert where you're in front row looking at Sting? Jim: My favourite's are the Grand Rapids show for the Police since we were able to get front row at the last minute and Elvis Costello made it even more memorable. For Sting, I'd have to say the 'Brand New Day' Tour in Columbus, Ohio. I loved the album and the concert was great.

Other favourite bands: Tracey: I share a love of Coldplay with my daughter and I like Phil Collins, Elton John, The Beatles and Sarah McLachlan. Jim: The Kinks, Bob Marley, The Specials, Johnny Cash and Muddy Waters but I listen to almost anything and everything.

In your own words: We both love music and don't go too far without it. We've been married for 27 years and have three great kids (one has even moved out!). We share a love of travelling and when we're travelling to see Sting, it's even better! We've seen Sting in concert any times and hope to keep going. We've also met a lot of other wonderful fans along the way!