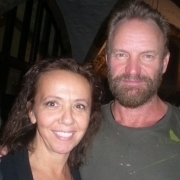 Name: Lydia di Corato

Username: lydia

Location: Milan, Italy

Been a fan since: 1980. I remember the first time I heard 'Message in a Bottle' on local radio. It was March and I was returning from a sad funeral. It was for my friend's brother... 22 years old, he committed suicide because he couldn't stand this bad world with war everywhere. He used to attend church every Sunday morning. It was raining and very sad. When I returned home and switched on my radio I heard 'Message' playing there with this voice... it was love.

Favourite Sting song: This is really impossible to answer - it is like asking me which "spaghetto" is the best between all the spaghetti in my dish or something like that. First of all I love his voice, so every song is my favourite song. BUT... I can answer which is my least favourite song... 'This War'. In my opinion it is not Sting's style. I know many people like it so please don't hate me! Also I don't particularly like the original version of 'All This Time', but I absolutely love the 2001 version from the Palagio DVD - that's another song.

Favourite Police song: How can I answer this question too, it's impossible? I should say 'Message in a Bottle' but the sound of 'Darkness' from the first note... 'Murder By Numbers' is where you can hear the pure Sting 'Police' voice... and out of respect for Stew, 'Masoko Tanga'.

Favourite Sting album: I would like to divide this answer into three parts. 'Dream of the Blue Turtles' because I will never forget how anxious I was waiting for Sting's first solo album and how super it was, and still it is! 'The Soul Cages' because my father died in 1992, and I will never forget how guilty I felt when in front of Sting I was not able to sing but could only cry. 'Brand New Day' for all the fantastic songs, each one better than the previous one and also for all the magic things that happened to me during the whole tour that followed.

Favourite Police album: It's so hard to choose! The first album has an important meaning to me so I should say 'Outlandos', but I can't. I should say 'Synchronicity' because it is also special to me because it was the last one, but I can't. 'Ghost' is special not just for the songs but also for the best logo I have ever seen, so I should say 'Ghost in the Machine', but I can't. And what about 'Reggatta' which I think contains the most important Police song? So I should really say 'Reggatta de Blanc' but... I can't. 'Zenyatta' contains some of my favourite songs, but 'Roxanne', 'Message', 'Bring on the Night', 'Tea in the Sahara', are on other albums. Can someone help me!?

Most memorable concert: The Police in Redecesio in July 1982 - it was love. And Monte Carlo on February 8, 1997, when I was on stage with him singing 'I'm So Happy I Can't Stop Crying'. Back home after the show, I was totally alone (which is rare), and I jumped around the house until the morning, then I realised I had a 40° fever!

Other favourite bands: Early Depeche Mode and The Beatles.

In your own words: I've been following Sting for such a long time I'm growing old with his music every day, every year, He is part of my skin, of my brain and of course, of my heart.