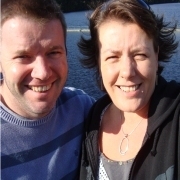 Name: Lynne Jane Ferguson (got my Police sweatshirt on in the pic!)

Username: lynnejb (b for Blackwood)

Location: Stirling, Scotland.

Been a fan since: 1979 - whenever I heard 'Roxanne' for the first time on the radio.

Favourite Sting song: 'Fragile', 'Why Should I Cry For You', 'Fields of Gold'.

Favourite Police song: 'Roxanne' - partly due to it being the first song I ever heard Sting sing and partly because it is a brilliant song - I never tire of listening to it. 'Bring On The Night', 'I Burn For You', 'Every Little Thing She Does Is Magic'.

Favourite Sting album: 'The Soul Cages'.

Favourite Police album: 'Outlandos D'Amour'.

Most memorable concert: 4 best ones! 1ST ONE. 11th Dec 1983 - POLICE playing at the Glasgow Apollo. I was 18 at the time and I queued all night on the streets of Glasgow in October for tickets to this concert. Had been too young to go to previous concerts in Scotland and there was no way I was going to miss this one. It snowed that night. The first snow of the winter. 2ND ONE - Seeing Sting play in the Royal Albert Hall in London (now in my mid 30's) and managing to shake his hand at the end of the concert by launching myself through the crowd. I could just see the headlines 'Mother on one faints after shaking man's hand'! 3RD ONE - Winning tickets to Sting and Edin play in Paris (now in my 40's) and taking my reluctant husband to see the show. Sting sang like an angel that night and I managed to get my husband to admit that he was very impressed. Also managed to get an autograph afterwards by waiting outside the underground car park. 4TH ONE - Winning tickets to see Sting at Durham Cathedral (now in my mid 40's). Couldn't get anyone to get time off to come with me so undaunted went on my own. Another stunning performance in a beautiful cathedral. And got there in time in the afternoon to see the entire rehearsal. Couldn't believe my eyes when I walked in and Sting was just sitting in the cathedral strumming away on a guitar. A magical day.

Other favourite bands: Still really a child of the 80's so a lot of Glasgow bands from the 1980's when I did most of my socialising. Also like Chris Rea, David Sylvian ('Brilliant Trees' is a brilliant album) and of course, Elvis.

In your own words: Gutted I couldn't afford to go to Sting's 60th in NY. But all I can say is 'Many Happy Returns Mr Sting' and I can't believe how lucky I am to be old enough to have been around from the start. Every concert I go to transforms me into that 18 year old girl watching him for the first time in the Glasgow Apollo and that keeps me young! Long may he continue! And many thanks from an avid fan!