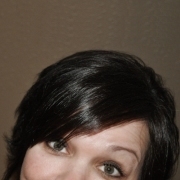 Name: Stacey

Username: Stingchronicity

Location: Dream location? Front Row Center :)

Been a fan since: 1982 - I was twelve, and visiting a friend. Her brother was listening to 'Invisible Sun' the feeling from that song immediately captured my attention! The sound was fresh, and fierce... I spent the rest of the day listening to 'Ghost' and 'Zenyatta'. By the time 'Synchronicity' came out I was absolutely taken with the sound, and interesting nature of The Police's music and lyrics, and a complete Sting fan at 13!

Favourite Sting song: If allowed only one... 'The Book of My Life'. However, 'Dead Mans Rope', 'Ghost Story', 'Fortress Around Your Heart', & 'Fragile' touch me as well.

Favourite Police song: 'Tea in the Sahara'.

Favourite Sting album: 'Nothing Like the Sun'.

Favourite Police album: 'Zenyatta Mondatta'.

Most memorable concert: Well, it took forever! When I was young my parents would not allow me to go to a concert... then when I moved out, I was broke... so in 2004 I finally attended my first Sting concert! The Sacred Love tour... I was so excited and nervous! It was beautiful. But... the best of all, the most memorable... on our 15th Wedding Anniversary, on the very exact day of our Anniversary we saw The Police on their reunion tour! My husband got us tickets! Who needs diamonds? Best, Most Memorable Present EVER!

Other favourite bands: Bad Company, Heart, Bowie, Billie Holiday, Joe Bonamassa.

In your own words: The music and lyrics Sting has created touched me as a young person. His music opened my eyes to some important things, and also to beautiful ways of expression. His music is a sound track of my life, and a memory keeper for me. Joyful moments, difficult moments, Sting's music is always the gentle salve my heart responds to. Our house is filled with music... all types. Because of that my children have grown up listening to Sting, and recently a cool thing happened. Our daughter is 14 now, and she came to me and expressed how talented 'she' thought Sting was, and that his song lyrics "were like poetry".. she particularly likes 'Russians' and 'The Pirates Bride'. So, guess who is going to the next Sting Concert with me? How cool is that? Thank You Sting, for all you have shared with us for so many years... your thoughtful, creative mind has brought us so much joy.