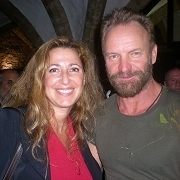 Name: Vania Murasso

Username: vanja1966

Location: Tuscany, Italy (but I'm from Naples!)

Been a fan since:1979! I was thirteen years old, and I was at a birthday party. I heard a song and stopped in the middle of the room, I closed my eyes and I thought ''Wow… this is the perfect sound for my mind and my soul''. Everything was absolutely perfect. It was 'Reggatta de Blanc' (the song). The day after, I ran to buy the album, and I heard it all day! At dinner time, my poor mum, came into my room and said ''please Vania… change the album! I can't go on with the same music". So I started to listen to The Police, and the story goes on… I love their music, and I need it into my life. Of course, I follow their solo careers too. There is lot of my life in their music.

Favourite Sting song: Ask a Police or Sting fan, to choose a song or an album, and you'll risk a murder! This is my thought. So I'll choose my favourites, just for today. For my favourite Sting song I'm thinking 'Fortress Around Your Heart'. I love this song. I love the meaning of the test, the atmosphere, the sound, and I desired to hear it during the symphonicity tour.

Favourite Police song: How to choose! At this moment I'd say 'One World'. Why? Because it's my alarm clock at six o'clock in the morning, to go to work! Now I can't imagine a different way to rise from my bed and start a new day!

Favourite Sting album: I love all Sting's album, of course, but I have to choose, so I say there's a special album that takes a special place in my soul. It's 'If On A Winter's Night'. Durham… great memories fixed in my mind.

Favourite Police album: 'Reggatta de Blanc' opened my mind. I discovered a new world.

Most memorable concert: Umbria Jazz. To see Sting and Gil Evans together on stage was unforgettable and, of course, unique!

Other favourite bands: Peter Gabriel, Genesis, Pat Metheney, U2, Coldplay, Incognito, James Taylor, Fleetwood Mac, Miles Davis, Coltrane, Weather Report, Stanley Clarke and others, Italians too.

In your own words: When Sting was becoming a rock star, he used to say he didn't like the cliché of the rock star, like Jim Morrison or Janis Joplin, etc. He wanted to create a new stereotype, he wanted to survive. So dear sting you got it! Love for ever, Vania.