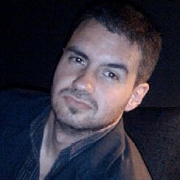 Name: David Martinez

Username: davidmartinez

Location: Barcelona, Spain.

Been a fan since:June 1991.

Favourite Sting song: Jeremiah Blues (Part 1).

Favourite Police song: Hungry For You (J'aurais Toujours Faim De Toi).

Favourite Sting album: The Soul Cages.

Favourite Police album: Ghost In The Machine.

Most memorable concert: Without a doubt, it was my first Sting show. It took place in Barcelona on June 12th, 1991 during 'The Soul Cages' tour. That night marked a before and after in the way I understood music. I was 15 years old. It was the night before my final exams, so I had to cheat my parents and pretend I was studying at someone else's house. Of course, that added a point of adventure to that memorable night. The highlight for me was definitely 'When The Angels Fall' and obviously 'All This Time' being the first time I ever saw Sting live. Since then there have been 11 more, but none of them have lived up to that night.

Other favourite bands: David Bowie, The Cure, Duran Duran, Depeche Mode, etc.

In your own words: Planning to marry Jo Lawry... she doesn't know yet.