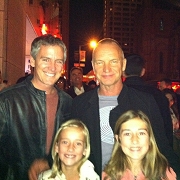 Name: Frank Smith

Username: FrankSmithCA

Location: Nob Hill Masonic Auditorium, San Francisco, December 3, 2011

Been a fan since: My brother raved about 'Ghost in the Machine' but it didn't sink in until my friends introduced me to Synchronicity in high school. I discovered their catalogue of music in reverse order. I'm now 43 so I have been a fan a long, long time.

Favourite Sting song: Way too many to name… 'Inside', 'Desert Rose', 'After the Rain'. How much space do I have? :)

Favourite Police song: 'King of Pain', 'Synchronicity I + II', 'Bring on the Night', 'Born in the 50's', 'Truth Hits Everybody', 'Invisible Sun', 'Reggatta de Blanc', 'Voices'.

Favourite Sting album: Whichever one is on.

Favourite Police album: I love the roughness of 'Outlandos'. It sounds like a band starting out with great creative energy. They followed it up with 'Reggatta' which kind of cemented their unique sound. I'm glad 'Synchronicity' was their final album. They ended it at the top and that made their reunion even sweeter.

Most memorable concert: Without a question, it has to be Back to Bass in San Francisco. It was just a magical night. We took our daughters as I wanted them to experience the music I have listened to for 30 years. I showed them videos of concerts before and they definitely knew many songs from Sting and The Police. We almost didn't go and bought tickets online the same day and drove 4+ hours to San Francisco. Sting was so relaxed in the concert and sounded awesome. They played a few songs I have not heard live before. The band was incredible - Dominic is so fun to listen to. It was great Rufus was playing with them. The violinists were a nice touch too. After the show we wanted to skip traffic so we waited for about a half hour to leave the auditorium. As we were leaving a big black SUV pulled up and Sting walked out a side door and right towards us. My wife took my phone and as people surrounded Sting I spoke to his back asking politely, would he mind turning around for a picture with my kids? He turned right around and said, "Hi girls" as he put his arms around them, smiled and made my night.

Other favourite bands: -

In your own words: After all these years I cannot believe I met him. I know he gets asked for these types of things endlessly but he was incredibly gracious. After the photo - he ducked into the SUV and disappeared. I will never forget that - nor will my wife or daughters. Thanks again, Sting for all you do - you've made the world a better place for us all! Frank, Michelle, Mackenzie and Brooke Smith.