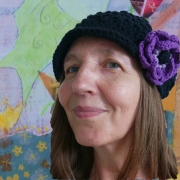 Name: Gaby Puehmeyer

Username: pueh

Location: Stuttgart, Germany.

Been a fan since: I think it was in the beginning of the 80s, but a dedicated, fanatical fan since last year.

Favourite Sting song: There are too many great songs, I can't just to mention one... but there are: 'Shape Of My Heart', 'Be Still My Beating Heart', 'Whenever I Say Your Name', 'Inside', 'Desert Rose'... They touch my soul.

Favourite Police song: The same as before, hard to find just one... 'Message In A Bottle', 'Roxanne', 'Every Breath You Take'... it's impossible, I can't answer that question!

Favourite Sting album: It changes from time to time… for a long time it was 'Mercury Falling', at the moment I love to hear 'Nothing Like The Sun', 'The Dream Of The Blue Turtles', 'Soul Cages'...

Favourite Police album: 'Reggatta de Blanc'.

Most memorable concert: The 60th Birthday Concert in NYC October, 1. It was my deepest wish to go there and the dream came true! I enjoyed this concert very much, it was so emotional to see Sting and Trudie and all guests on stage. I will never forget this evening at Beacon Theatre! And in addition we spent 5 wonderful days in New York.

Other favourite bands: My husband's band - he plays the drums.

In your own words: He is my soul mate. His music guides me trough my day and my life. I'm an artist and I do ceramic sculptures, I love to listen to his music while I'm working. The music puts me in a mood, so I can switch off from everyday life. I thank him from my heart, I hope he knows, what he and his music mean for his fans. Especially for me!