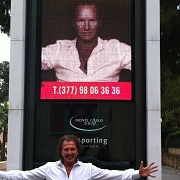 Name: Alessandro Corradi

Username: stinghiano

Location: Parma, Italy.

Been a fan since: Since 1979 when I first listened to 'Message In A Bottle'. I remember as if it was yesterday: a friend of mine came to school with a walkman and gave me headphones playing 'Message In A Bottle... and the song really hypnotized me.

Favourite Sting song: 'Fortress Around Your Heart'. I love this song and the related video too.

Favourite Police song: 'King Of Pain'. I love the story behind the lyrics and the title of song too. Is it Sting or am I the real King of pain...?

Favourite Sting album: -

Favourite Police album: 'Reggatta De Blanc'. This is the album that introduced the "Police sound". It contains some masterpieces like 'Message In A Bottle', 'Bring On The Night', 'Walking On The Moon', 'The Bed's Too Big Without You', 'Reggatta De Blanc', 'Deathwish'... I've got to stop or I will list all the songs on the album!

Most memorable concert: I remember my first one in Bologna on July 1982. I was very young and I was waiting many long years. But probably the most memorable one was on the last European date in London on June 29th 2008 in Hyde Park during The Police Reunion tour. I was very front row with my wife and some dear friends.

Other favourite bands: U2 and Depeche Mode of the 80's.

In your own words: I consider Sting and The Police part of my life. I think that if I came an adult as I am with my temperament, my valours, my way of living life, was even worth of them. Thank you.