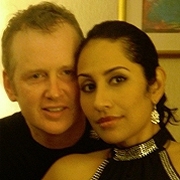 Name: Ron Nichols

Username: rnick321

Location: Lexington, Kentucky

Been a fan since: Since the days of the Police. When I was younger I thought there was no way Sting could ever top what had been accomplished but luckily that was not the case (it was a young man's perspective on things). As Sting has matured, as a musician, songsmith, poet, author, my tastes have changed, evolved, and mellowed as well. I am sure this has been, and continues to be, somewhat shaped by Sting's wanderings and musings as I've tagged along on a good portion of the journey. I've used Sting's words and music in a therapeutic fashion to work through trying times and to think deeper about the themes that have been covered, discovered, revealed. It has really bolstered me at key times and helped me to each calmer shore slightly better for the wear and tear.

Favourite Sting song: 'Ghost Story'. Masterful! I lost my Pops too early as well…

Favourite Police song: 'Bring on the Night'. I've been there brother!

Favourite Sting album: '...Nothing Like the Sun'.

Favourite Police album: 'Ghost in the Machine'.

Most memorable concert: The concert in Ohio where Dominic Miller opened for Sting after the opening act became ill (it was either Columbus or Dayton and the year escapes me, sorry). Dominic was introduced by Sting and then Sting joined him on stage for 'Shape of My Heart'0" It was a double dose of everything awesome. Became a fan of Dominic's as a result (we love his 'Shapes' album and it is a favorite of ours that is in regular rotation).

Other favourite bands: The Doors and the new material by 'The Guys' (Robby & Ray). Thin Lizzy. Dominic Miller.

In your own words: War is truly not the answer. I've seen those that suffer in war and it is always the innocent, and the innocence lost, that suffers the most. "ONE LOVE!" Marvin Gaye & Bob Marley got it right. We need more concerts and celebrations so we can remember the ole ways and get lost in our abandon so we can realize that we are more alike than not.

Other: Dominic Miller gave my oldest son, Bryan, a guitar pick at the show in Miami Ohio that we placed (like a sacred relic) in the frame with a Sting Paris poster that we bought at the show. Also, we acquired a signed copy of 'Broken Music' there. Great work! Very open, honest, accessible and sincere just like the music, lyrics and the man.