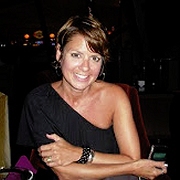 Name: Tana Martin

Username: TanaSue

Location: Ocean Pines, MD

Been a fan since: 1983

Favourite Sting song: 'Fragile'.

Favourite Police song: 'Walking on the Moon'.

Favourite Sting album: '...Nothing Like The Sun'.

Favourite Police album: 'Ghost In The Machine'.

Most memorable concert: The Fan Club Show at the Apollo, April 2011.

Other favourite bands: Red Hot Chili Peppers, Dave Matthews Band, No Doubt, Black Eyed Peas, Lenny Kravitz.

In your own words: For any fan these questions are hard to answer because we love all things Sting! I have to mention that I was fortunate enough to go to the rehearsal of the Rainforest Benefit at Carnegie Hall earlier this year. It was a truly amazing experience! I would be overjoyed to one day have that photo with Sting!