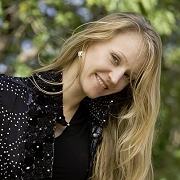 Name: Julia Lachimova

Username: Lachimova

Location: New York, USA

Been a fan since: Since I ever won anything.

Favourite Sting song: 'Roxanne' - I think it is lyrically challenging song.

Favourite Police song: 'Every Little Thing She Does is Magic'.

Favourite Sting album: 'Best of the Police', 'Best of Sting', 'Brand New Day'.

Favourite Police album: My favorite song 'Don't Stand So Close To Me'. And the album is the 'Best of the Police'.

Most memorable concert: I was at the casino, and was randomly offered a ticket by a friend, lucky me!

Other favourite bands: U2, Nirvana.

In your own words: Thank you for all you do, something to enjoy.