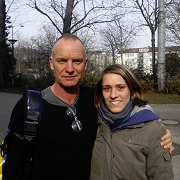 Name: Nina Dernov

Username: Nina4Sting

Location: Baden-Baden, Germany.

Been a fan since: 2004.

Favourite Sting song: All this time version: 'The Hounds of Winter', Symphonicities version: 'The End of the Game', 'All Would Envy' with Chris Botti, 'This War' and soo sooo many others... it's not possible to list all of them :-)

Favourite Police song: 'Bring On The Night'.

Favourite Sting album: 'Sacred Love', 'All This Time', 'The Soul Cages', 'The Dream Of The Blue Turtles'.

Favourite Police album: 'Zenyatta Mondatta'.

Most memorable concert: The Symphonicities concert with soundcheck in Berlin and the Back to Bass concert in Stuttgart.

Other favourite bands: Dominic Miller Band, Phil Collins, John Mayer.

In your own words: At first, I've never met a person with such an aura. Sting has got such a peace of mind, such a deep relaxation that went right into me when I met him. Perhaps some people would call me crazy but I'm sure I felt it. I will never forget this great feeling. Sting, so talented, such a wonderful voice, such a great and fascinating musical knowledge, musical sensitivity and musical ear. Writing great arranged songs and so wonderful lyrics. Many good thoughts I can support. And not least so charming, likable and always a gentleman. Sting and his music walk with me wherever I go since I found them and will do for ever. Sting and his music, two of the greatest things I've ever found!!!