Il Palagio Organic Products from Tuscany...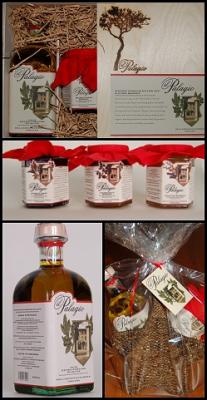 Modern organic growing methods have been combined with centuries of Tuscan farming tradition to make the very most of the abundant natural ingredients produced by local farmers.
The Il Palagio range provides a taste of pure Tuscan sunshine in a bottle: all of which will now be available to buy exclusively at the famous Harrods Food Halls from 28 November. The launch of the Il Palagio range of olive oil & honey products takes place on 28 November and there is a tasting stand in the Food Hall at Harrods all week.
Extra Virgin Olive Oil
Made from a subtle blend of Frantoio, Leccino, Pendolino, Maurino, Coratina and Leccio del Corno olives, this oil has a wonderful soft texture, with a sweet aftertaste. Due to the careful harvesting and processing of the olives, this oil has a very low acidity level of around 0.2%, whereas most olive oils have an acidity level of 0.5% to 0.99%.
Acacia Honey
A silky textured, golden honey. The white acacia flower is well known for its strong scent, which is translated into this honey's sweet flavour and aroma. This unique taste makes it fantastic on toast.
Chestnut Honey
A vibrant red honey, it has an intense aroma with a subtle bitter aftertaste. This beautifully powerful flavour is suited to accompany cheese and other savoury foods.
Honey Dew Honey
A radiant golden amber, this honey contains all the nectar essences of local flowers found in the Apennines and on the hills, giving it a delicate blend of flavours and smells. It is perfect to sweeten your tea, yoghurt or muesli.
"I'm so happy to have been able to keep alive the historical tradition of making olive oil and honey from the fruit of the land at Il Palagio. With 10% of profits going to the environmental charities we support, I feel that we're using nature's bounty to give something back to the earth too, and so help preserve its future for generations to come. And it all tastes great!"
- Trudie Styler