Sting to headline Tiger Wood's Annual Benefit Concert - 'Tiger Jam IX', presented by AT&T...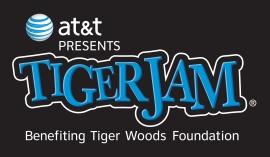 One of music's all-time greatest performers, Sting, will join Tiger Woods for his annual benefit concert, Tiger Jam IX, presented by AT&T, Saturday, April 29, 2006 at the Mandalay Bay Events Center in Las Vegas. Proceeds of the event, hosted by Woods, will raise funds for the Tiger Woods Learning Center, a youth-education facility in Anaheim, California, and local charities. Each of the previous eight Tiger Jams have raised more than , million for worthy causes.
"Sting is a music icon, and I'm thrilled he will be headlining Tiger Jam IX," Woods said. "I know his personal dedication to philanthropy combined with an amazing show will help us raise awareness and support for the students who attend the Tiger Woods Learning Center."
Sting has remained one of pop's biggest stars, and has sold nearly one hundred million albums worldwide. To date, Sting has been the recipient of 10 Grammy Awards in various categories, ranging from Best Male Pop Vocal performance to Song of the Year. In addition to his contributions in both the music and film genres, he is an advocate for many charities including Amnesty International and The Rain Forest Foundation.
"I am looking forward to the Tiger Jam," said Sting. "What Tiger Woods is doing for the students of Southern California through his Learning Center is commendable. I am proud to help this wonderful cause."
Tiger Jam was created in 1998 by the Tiger Woods Foundation, an organization dedicated to empowering young people to reach their maximum potential. Since its inception, Tiger Jams I - VIII have raised more than million. Proceeds from previous Tiger Jams have supported Child Haven, Center for Independent Living, Greater Las Vegas Inner City Games, Boys & Girls Club of Las Vegas, GRAMMY in the Schools and The VH1 Save the Music Foundation.
Established in 1996 by Tiger Woods and his father Earl, the Tiger Woods Foundation empowers young people to reach their highest potential by initiating and supporting community-based programs that promote the health, education and welfare of all of America's children. More information on the Tiger Woods Foundation and its mission can be found at http://www.tigerwoodsfoundation.org
Scheduled to open in early 2006, the Tiger Woods Learning Center is a 14 acre, youth-education facility that represents the vision of Tiger Woods and his goal to provide youth from diverse backgrounds an interactive enrichment program that will improve individual aptitude in reading, math, science and technology. As a result, youth will develop personal accountability, independence and resilience leading to greater knowledge of career options and an increase in college enrollment. For more information, please visit http://www.twlc.org
About the New AT&T
AT&T Inc. is one of the world's largest telecommunications holding companies and is the largest in the United States. Operating globally under the AT&T brand, AT&T companies are recognized as the leading worldwide providers of IP-based communications services to business and as leading U.S. providers of high-speed DSL Internet, local and long distance voice, and directory publishing and advertising services. AT&T Inc. holds a 60 percent ownership interest in Cingular Wireless, which is the No. 1 U.S. wireless services provider with more than 52 million wireless customers. Additional information about AT&T Inc. and AT&T products and services is available at http://www.TheNewATT.com
The Mandalay Bay Resort & Casino celebrates its seventh anniversary this Spring, continuing in its tradition of elegance and excitement as one of the top resorts on the Las Vegas Strip. The AAA Four Diamond Resort is known for its luxurious rooms, a wide array of fine dining destinations and its signature sand and surf beach, but Mandalay Bay has emerged as one of the world's premiere entertainment venues. The Mandalay Bay Theatre is currently home to the international smash hit musical Mamma Mia!, and the House of Blues Concert Hall offers live musical performances in an unparalleled environment.
Home of the Tiger Jam series, the 12,000-seat Mandalay Bay Events Center regularly plays host to a wide range of top entertainment offerings, from the most exciting match-ups in the sport of boxing to performances from the world's best musical starts - including opera maestros Luciano Pavarotti, Andrea Bocelli and the Three Tenors, to popular stars such as Britney Spears, Shakira, and George Strait.
For more information on Tiger Jam IX Sponsorship opportunities, please call (714) 816-1806.