Get your free 'Dune' DVD...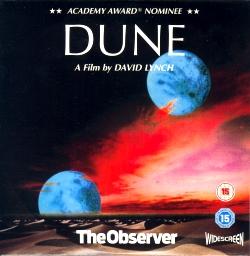 Sting plays animalistic Feyd-Rautha in David's Lynch's 1984 adaptation of Frank Herbert's multi-million selling epic sci-fi novel. The year is 10,191; forces from around the universe are vying for control of the spice melange - a substance shrouded in mystery - which extends life, expands consciousness, allows for convenient inter-galactic travel and exists only on the planet Arrakis (aka Dune). This pretty much all that is clear in the film's labyrinthine plot. Director Lynch has made a career out of depicting the bizarre. His best known works, "Blue Velvet" (1986), "Wild At Heart" (1991) and the cult television show "Twin Peaks" - focus in particular on the dark underbelly of seemingly tranquil small-town America. Although different in scope and content, "Dune" has all the requisite Lynch trademarks; dialogue that verges on non-sequitur, physical deformities ad nauseum, and thinly disguised erotic symbolism (Hello, giant worms!). The director himself makes a cameo appearance as a besieged spice harvester. While "Dune" featured internationally recognised veteran actors such as Jose Ferrer, Max Von Sydow, and Silvana Mangano and future American television stars such as Patrick "Captain Pickard" Stewart, Kyle "Agent Dale Cooper" Maclachan, the movie's marketing campaign focused on a relatively inexperienced actor whose scant onscreen appearances total approximately ten minutes. Yes, those were the heady 'Synchronicity' days and Sting basked in the promotional spotlight - and speaking of scant, Sting's performance can be condensed into two words - flying underpants. The memorable scene in which Feyd emerges from slumber, clad only in his signature inter-galactic briefs is a Calvin Klein moment straight from the future.
Don't miss your chance to get a free DVD of this movie in the UK's Observer on Sunday newspaper on January 22.