Sting & Trudie at the Sundance Festival in Utah...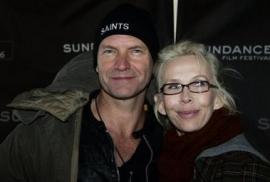 Sting and Trudie have been in Utah recently at the Sundance Film Festival where a movie they are closely involved with - 'A Guide to Recognizing Your Saints' - is being screened. 'Saints' is a coming-of-age drama about a boy growing up in Astoria, N.Y., during the 1980s. As his friends end up dead, on drugs or in prison, he comes to believe he has been saved from their fate by various so-called saints. Robert Downey Jr plays the lead character as an adult, looking back over his life. Trudie is one of the movie's producers while Sting is credited as an Executive Producer.
Fox News reported that "The hit of the day, I think, was 'Saints', Dito Montiel's autobiographical look at growing up on the mean streets of New York in the mid 1980s. There was a lot of discussion about this film after the initial screening, but this much is certain: Chazz Palminteri gives the performance of his career and will almost certainly be an award getter next winter. There are also strong performances by Dianne Wiest, Robert Downey, Jr., Shia Labeouf, and newcomer Channing Tatum.
A very New York movie, told in the style of Spike Lee and a little like the Brazilian film 'City of God', Saints is edited to maximize the storytelling of Montiel's book, upon which the movie is based. My guess is 'Saints' is going to sell nicely and become quite the cult hit among teens and young adults. It's like watching a combination of 'The Outsiders', 'Sleepers', and 'Kids'. It's all there, the violence, sex, and pathos of a rough childhood. Seeing Montiel at the screening and Q&A session, you can already tell he'll be a fun player in the movie's release. You can't tell if anything he says is true, and it doesn't matter.
'Saints' almost wasn't financed and made. Styler said yesterday that after working over the script for a long time, the money fell through on Montiel's birthday. Enter Sting and his pal, Boston philanthropist Bobby Sager, who put up the needed funds. Everyone should be glad they did. 'Saints' is the kind of work Sundance is famous for, and proud of.
John Cooper summarised the movie for the Sundance Festival website as follows:
A Guide to Recognizing Your Saints is based on director Dito Montiel's youth during the mideighties in the tough neighborhood of Astoria, Queens. All his old friends have ended up dead, as junkies, or in prison; Dito is the proverbial man who got out. For him, the "saints" are the folks he remembers, the ones he left behind. For better or worse, they made him who he is today. Just the way memories can flood consciousness, Montiel uses the same motif to flood the screen with his stories. The past gets layered upon the present, and the film comes to life. The performances are real because the characters' words are real; they've been said before. The strength of the film isn't looking back through a nostalgic, Vaselined lens; instead, Montiel infuses the memories with both the exhilaration and pain of youth. The outstanding cast members are dedicated to finding every nuance and truth. They capture the frenetic quality of the time, not only in the streets and on the rooftops but also in the bustling family kitchen. Montiel's New York is steamy with humidity, cooking, and adolescent sexuality. A Guide to Recognizing Your Saints is an honest account of a bittersweet return to a neighborhood that isn't the same and never will be again