Tiger Jam Concert - Public Ticket Sale Info...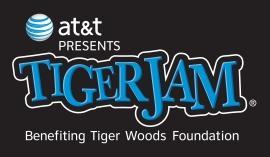 The public ticket sale for this show will commence on Saturday, January 28 at 10am PST. The concert, hosted by Tiger Woods will raise funds for the Tiger Woods Learning Center, a youth-education facility in Anaheim, California, and local charities. Tickets for the concert will be available through Ticketmaster Charge-By-Phone lines at (702) 474-4000, at all Ticketmaster retail ticket centers, http://www.ticketmaster.com, and at the Mandalay Bay Events Center Box Office (702) 632-7580. Individual ticket prices start at .
Tiger Jam was created in 1998 by the Tiger Woods Foundation, an organization dedicated to empowering young people to reach their maximum potential. Since its inception, Tiger Jams I - VIII have raised more than million. Proceeds from previous Tiger Jams have supported Center for Independent Living, Greater Las Vegas Inner City Games, Boys & Girls Club of Las Vegas and The VH1 Save the Music Foundation. For more information on Tiger Jam IX Sponsorship opportunities, please call (714) 816-1806.
Established in 1996 by Tiger Woods and his father Earl, the Tiger Woods Foundation empowers young people to reach their highest potential by initiating and supporting community-based programs that promote the health, education and welfare of all of America's children. More information on the Tiger Woods Foundation and its mission can be found at http://www.tigerwoodsfoundation.org.
Opening in January 2006, the Tiger Woods Learning Center is a 14 acre, youth-education facility that represents the vision of Tiger Woods and his goal to provide youth from diverse backgrounds an interactive enrichment program that will improve individual aptitude in reading, math, science and technology. As a result, youth will develop personal accountability, independence and resilience leading to greater knowledge of career options and an increase in college enrollment. For more information, please visit http://www.twlc.org