Sting to perform at Rock In Rio in Lisbon...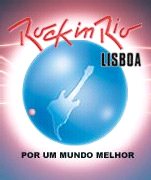 As part of his Broken Music Tour 2006, Sting will perform June 4th at Rock In Rio in Lisbon.
Performing all of his hits, Sting's Broken Music Tour is a stripped down and raw rock show.
Sting will be joined by long-time band mate Dominic Miller on guitar, in addition to Lyle Workman (Beck, Frank Black) also on guitar and Abe Laboriel, Jr. (Paul McCartney) on drums.
As the Festival is General Admission, we have decided not to hold a presale. However, the promoter has made an allocation of tickets available to the fan club and we will put these on sale via Sting.com on March 2 at 10 am EST (3pm GMT/4pm CET) and will end on March 8 at 10 am (3pm GMT/4pm CET). We are doing this primarily so that anyone from outside Europe, or from further afield in Europe than Portugal who might wish to attend the Rock In Rio show can buy their tickets using our ticket ordering system which will take you through the ticket purchasing process in English.
Tickets are now on general sale at
http://www.ticketline.pt