Herbie Hancock's 'Possibilities' released on DVD, April 18...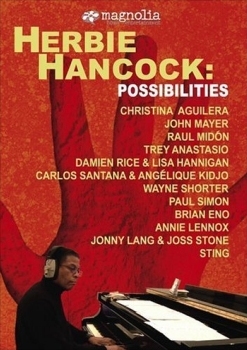 'Herbie Hancock: Possibilities' will become available on three platforms during April: opening April 14 in theaters in Los Angeles and New York, arriving April 18 on DVD in the USA and airing April 23 on the HDNet cable channel.
'Possibilities' is an intimate documentary about Herbie Hancock and his in-studio collaborations with a dozen formidable pop recording artists, collaborations that explore the unexpected, like jazz improvisations.
The film is also about how Herbie's unique worldview shapes a creative environment that encourages artists to step outside the velvet prison of easy expectations. "The hip stuff," Herbie tells Trey Anastasio, in a scene from the film, "is outside the comfort zone."
'Possibilities' follows Herbie over a year and a half collaborating with musical icons Carlos Santana, Sting, Angelique Kidjo, Annie Lennox and Paul Simon, young superstars Christina Aguilera, John Mayer, Trey Anastasio and Jonny Lang and newcomers Joss Stone, Raul Midon, Damien Rice and Lisa Hannigan
The film also puts Herbie's latest work in the context of his extraordinary musical career, and includes rarely seen archival footage of Herbie with the Miles Davis Quintet in 1962; Herbie leading his Headhunters with their hit tune, 'Chameleon'; Herbie's classic video for 'Rockit'; and never-before-seen duets of Herbie and Wayne Shorter playing for peace in Hiroshima and Nagasaki in 2005 on the 60th anniversary of the atomic explosions.
VIEW A TRAILER FOR THE MOVIE HERE
ORDER THE DVD HERE