Report from the Dominican Republic...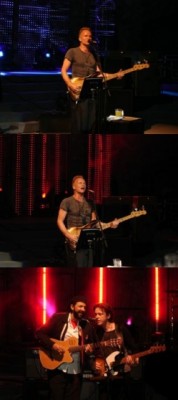 Sting.com member Peter Ostreicher is currently on a mini-tour of his own following Sting on his jaunt around the Caribbean. En route to Puerto Rico he found time to send us this report...
An unbelieveable show. I have seen Sting a dozen times and this was without a doubt the best I have seen. Set list was exactly as Trinidad minus 'Heavy Cloud'. This amphitheater show was special for several reasons. It was the first time in more than 2 decades we have had a big non-Latin performer in the DR so the excitement building up to this was immense. The whole city covered in signs and billboards, the radio playing more Sting than ever and everyone going Sting crazy - taking off work for the trek to La Romana (110km from Santo Domingo).
Sting was in top top top form and was visibly pleased to see that everyone knew all the songs, he stopped singing at least 7 or 8 times to hear the crowd sing which in my experience is a lot more than average for him. He was beaming each time. See Sting? Even us in the backwater countries love your music!! Here's to hoping you will come back and see us again.
The clincher of this night for Dominicans was Sting being joined by Juan Luis Guerra for 'Fragile'. Juan Luis is our most famous merengue star and is quite literally a God to most Dominicans. The place absolutely roared when he came on stage, and he showed his typical embarassment at taking a bit of the spotlight.
An outstanding show, with Sting completely connected to the audience and showing it. More reports from Puerto Rico tonight but I suspect it will be hard to top an amphitheater show with an arena show!
For some press reviews (in Spanish) of the show
Click Here
.