Sting Wows Crowd at Tiger Woods Jam IX...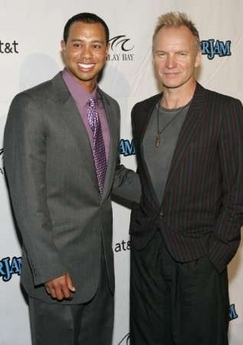 Tiger Jam IX presented by AT&T was held Friday and Saturday at the Mandalay Bay Resort and Casino, earning , million for the new Tiger Woods Learning Center and local charities. Highlight of the festivities was a two-hour concert Saturday night at the Events Center by musical great Sting, who was preceded by Anna Nalick. More than 10,000 fans rocked out to many of Sting's greatest hits (see set list below), the musician earning a big hug from host Tiger Woods afterward.
"He was awesome," Woods said of the 10-time Grammy Award winner. "I think everyone enjoyed themselves and we were able to make a lot of money for the kids."
Woods was introduced by actor Samuel L. Jackson, one of many celebrities on hand. Prior to the concert, a live auction was held. The biggest item was a private putting lesson with Woods and a pro-am berth in the 2006 Target World Challenge at Sherwood Country Club in Thousand Oaks, Ca., which sold for 5,000. Woods paid ,000 for a private poker lesson and dinner with poker legend Phil Ivey. Another hot item was a round of golf with Donald Trump and a three-night stay at the Trump International Hotel & Tower in New York, plus dinner and theatre tickets, the package garnering ,000.
"My sincere thanks to all our sponsors and friends of the foundation," said Woods, who gave a clinic on Friday. "Thanks to them, we are making a difference in the lives of underserved youth."
By Mark Soltau
www.tigerwoods.com/
.
Tiger Jam Set List:
Message In A Bottle / Synchronicity II / Walking On The Moon / If I Ever Lose My Faith In You / Englishman In New York / Spirits In The Material World / Shape Of My Heart / Driven To Tears / Every Little Thing She Does Is Magic / Fields Of Gold / A Day In The Life / Soul Cages/King of Pain / Voices Inside My Head / When The World Is Running Down / Roxanne / Desert Rose / Next To You / Every Breath You Take / Fragile