Sting is honoured by Newcastle University...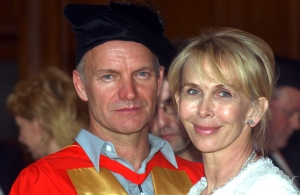 Sting, the Newcastle-born singer-songwriter, activist, author, actor and former bassist and lead singer with The Police, has been awarded an Honorary Doctor of Music degree by the University of Newcastle upon Tyne.
The honour was conferred upon Sting by the Chancellor of Newcastle University, the Right Honourable Lord Patten of Barnes, CH, at a ceremony in the University's King's Hall on May 5.
Accepting the honour, Sting, who is acknowledged as one of the world's most distinctive and highly respected performers, said: 'It is very exciting to see the diversity of music being studied at Newcastle University, with developments like the folk and traditional music degree now being taught alongside classical and popular music.'
At the same ceremony, honorary degrees were also conferred upon the Government's Chief Scientific Advisor, Sir David King; former Metropolitan Police Commissioner, Lord Stevens; Mary Briggs and Elizabeth Hammill, founders of Seven Stories, the Centre for the Children's Book; engineer and entrepreneur, Dr Alan Reece, and Len Fenwick, the Chief Executive of Newcastle Hospitals NHS Trust.
* For the first time in the history of the University, the Honorary and Higher Degree ceremony was a carbon neutral event. The University made a donation to the charity CarbonNeutral North East, to offset the carbon emissions generated by the energy consumed by flights and other travel, overnight accommodation, food and drink associated with the ceremony.