''No, No, No... Yes!'' Sting to appear in 'Vicar of Dibley'...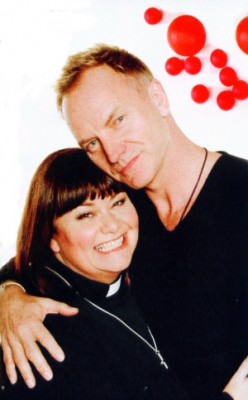 Sting is contributing to this year's annual Comic Relief charity fundraiser when he appears in one of the evening's highlights - the last ever episode of the hugely popular 'Vicar of Dibley' TV comedy when it is broadcast on Red Nose Day, March 16.
Sting and Trudie Styler are guest stars and made Red Nose Day the day to give The Vicar of Dibley the send off it deserves. The little Oxfordshire village doesn't know what's hit it when the Police frontman and Trudie rock up to a parish council meeting. Far from business as usual, the pair join Geraldine (Dawn French) and Harry (Richard Armitage) for the wife swap to end all wife swaps! TVTimes chatted exclusively to Dawn about how and why it's finally time to say goodbye...
'Sting's thought of as quite a serious chap. He is about his music, but he's got a cheeky side!' laughs Dawn, who's been married to fellow comedian Lenny Henry for 22 years. 'He really was up for anything. I was surprised and delighted.'
So what exactly went on when Geraldine became Sting's wife? 'I can't tell you too much, anything I do say will blow it really - but he learns how to be my husband; she teases. 'And I don't get pregnant. Well, not on screen, anyway!'
Other events planned for the evening which will be hosted by comedians Russell Brand and Lenny Henry include Sugababes and Girls Aloud teaming up on this year's Comic Relief single, a cover of Run DMC's 'Walk This Way', a 'Comic Relief Does The Apprentice'will see Sir Alan Sugar matching 10 celebrities - including Ross Kemp, Rupert Everett and Cheryl Cole - against each other and BBC Radio 1 DJ Chris Moyles will tour the nation hosting a series of karaoke nights.
This is the 11th Red Nose Day and the 21st year of Comic Relief.
The charity has raised more than £425m and sold more than 45 million red noses to date.
For more on Comic Relief visit
www.comicrelief.com/
and for more on the Vicar Of Dibley visit
www.bbc.co.uk
.