There is one story dominating the entertainment news pages across the world today - The Police to tour...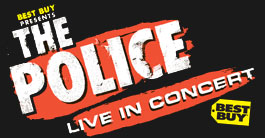 Unsurprisingly, one story is dominating all others as far as entertainment news is concerned. The Police's press conference and rehearsal at the Whisky A Go Go in Los Angeles yesterday where the band confirmed that they would be embarking on a world-wide tour starting in May.
Speaking on the morning of the Whisky event Stewart Copeland told his official website [
www.stewartcopeland.net
] "G'morning folks. I had planned on posting a long blog about my adventures of the last couple of months but have been distracted by the adventure itself. First there was The Call. Then there was the subterfuge (more about that later). Then there were the rehearsals in Vancouver. You all saw the Grammy show I guess. For now I can tell you that we are deeply bonded in The Police and fully intend to burn down the world and rage across the land with more power than ever. As I hit send on this message I'm getting into a car that will take me to the "Rehearsal" where we will announce something. Over the next month, while Sting finishes off his lute commitments, I'll try to get a few impressions onto the page for you."
During the press conference when asked about what prompted the change of heart to get back together after 23 years, Sting commented "If you'd asked me the day before I made this decision, I would have said, 'You're out of your mind. My head is somewhere else. I woke up one morning about three months ago and this light bulb went off in my head: I'm going to call Andy and Stewart and tell them we should tour."
Playing down questions about their well documented disagreements and arguments, Sting added: "The nature of the arguments were all about music... also hairstyles". Stewart adding "We never hated each other. We fought tooth and nails over the music, but as human beings, we always liked each other."
When asked about the likely stage show, Sting commented "It's going to be three guys on stage, that's all. The show is going to look simple but spectacular", adding that "There's no reason why we shouldn't be 25 years better than we were before, and we were good then."