Second Boston show confirmed for July 29...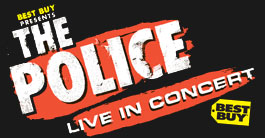 The Police Tour Fan Club is happy to announce that The Police will be playing a second show at Boston's historic Fenway Park! The concert will be held on Sunday, July 29. The members-only presale will begin on Sunday, February 18 at 2pm local time.
Head to
ThePoliceTour.com Tickets
page at this time to purchase your tickets for this show.
You must be a member to participate in any presales. If you are not a member yet you can find out more information
Here
.
Important Fan Club Sale Instructions
Our fan club sale system will generate your fan club sale passcode for you when the shows go live. You will not get a passcode before the fan club sales start. We strongly advise that you carefully review the instructions on how to participate in the fan club presales before they start. View these instructions at
Ticket Presale Guidance
.
Ticket holds for the tour are strong in terms of both quantity and quality and we hope that as many fan club members as possible get seats to the show they would like to attend. However, shows in large metropolitan areas tend to be very popular and are expected to sell out very quickly. Also, The Police Tour Fan Club is not just a ticket club. Joining the Fan Club is not a promise that you will be able to get tickets to a show.
Other Ticket Sales for this show:
The Best Buy presale for this show will commence on February 18 at 12pm local time.
Ticketmaster Fan Club 'bundles' - depending on availability - will go on sale via Ticketmaster on February 18 at 6pm local time.
Public tickets for this show will go onsale on February 20 at 10am local time.
Local Time:
What does 'Local Time' mean?
For example: if we say "presales start at 1pm Local Time" and there is a presale in NY, it will happen at 1pm EST and if there is a presale in LA, that presale will start 1pm PST. If you are interested in a presale that is outside your timezone, please make sure to adjust for any time zone difference.
Additional cities and venues to be announced soon. Stay tuned to
ThePoliceTour.com Tickets
page for more info.