Gerry Richardson's new CD entitled 'This... Is What We Do' has now been released... Check out the exclusive video featuring The Police and Gerry!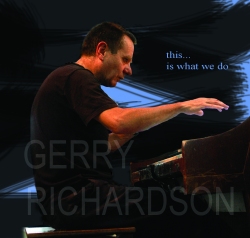 Gerry Richardson's new CD entitled 'This... Is What We Do' has now been released and can be ordered via online via ebay (just search for "Gerry Richardson") or downloaded from iTunes from June 4. Also available on iTunes from this date will be Gerry's previous album 'Cooking At The Cluny'."
'This... Is What We Do' features ten tracks including a cover of Graham Bond's 'Springtime In The City' which features Sting on vocals. Talking about this track recently Gerry said "This song was written in the 1960s by seminal UK R&B/Jazz bandleader Graham Bond. Sadly underrated, with a chaotic life cut short by various addictions and neuroses, Bond lead arguably the worlds first Jazz-Rock band with a stellar group of collaborators which included Jack Bruce, Ginger Baker and John McLaughlin. I formed a band (Last Exit) with Sting in the early 1970s and 'Springtime in the City' formed part of the repertoire. When Sting agreed to sing on the album, we decided to revive the song as a tribute to both Graham Bond and Last Exit. Fairly unusually for a pop song it uses all the notes in the chromatic scale."
Jazz Alert, reviewing 'This... Is What We Do', described it as "an excellent representation of Gerry's music, with trio and quartet tracks, some storming work from the full 9-piece Big Idea, and vocals from both Sting and Gerry himself."
Gerry launched the album last week at the Cluny in Newcastle - the same night as The Police opened their world tour in Vancouver. Well over 100 people crammed into the Cluny for some great music and also a surprising, entertaining video link to Vancouver where Sting and The Police said hello to Gerry before playing the intro to 'Springtime In The City' before Gerry and his band seamlessly took over! Check out the video using the link below...