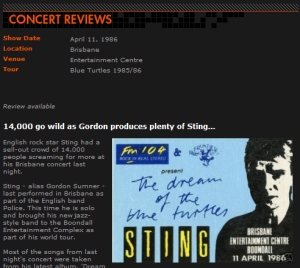 We'd just like to say a big thanks to everyone that has sent us copies of concert reviews and images of their tickets, posters and stickers for us to add to the Tour Archive on the website here. All told there is now an amazing 1,900 reviews and items of memorabilia in the Archive dating from 1977 through to now - so thanks to everyone that has contributed!
There are still plenty of gaps though, so if you have an old concert ticket or a newspaper review from a show that you attended and cut and out and kept please scan it and send us a jpeg so we can add it to the site archive. You can email them to us at at email
daveandwendy@sting.com
.
You can check out the tour archives at
www.sting.com/archives/tours/tours.php
- select a tour, hit the "view all" option, and a list of tour dates will appear. If there is an "R" next to a date just click on it as there is an entry of some sort to read or view. Your help in filling the gaps or adding to what is already there is very much appreciated.
Thanks!
Tina, Dave & Wendy