The Police Announce Special Auction to Front Row Tickets for Sold Out Concerts in North America to Support WaterAid: Auction Begins May 1st...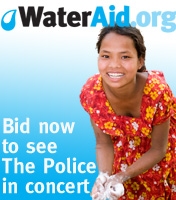 Today The Police announced that on Tuesday, May 1, 2007 a special benefit ticket auction for front row seats to all concerts on the North American leg of The Police's upcoming tour will be held on
Ticketmaster.com
. The proceeds from this auction will benefit WaterAid, a non-profit organization whose mission is to overcome poverty by working with people in the world's poorest countries to improve access to safe water, sanitation and hygiene education.
Two pairs of front-row-center VIP seats will be auctioned on Ticketmaster's website,
http://www.ticketmaster.com/thepolice
, beginning Tuesday, May 1st at 10 a.m. Eastern Time (U.S.). In addition to the best seats at each venue, the highest bidders will receive a VIP package including VIP parking and premium VIP Gift Bags. This benefit auction is one of the only way fans of The Police can still obtain tickets to the most highly anticipated music tour of the summer.
On February 12, 2007, the internationally renowned rock band The Police announced that they would contribute a portion of the proceeds from their highly anticipated worldwide tour to WaterAid. In a statement, The Police said, "We are proud to support WaterAid in their mission to improve access to safe water, sanitation, and hygiene education in the world's poorest countries. We hope the funds and awareness raised during the tour will help to shine a light on WaterAid's efforts to bring help to millions of people in need."
WaterAid has its headquarters in London, supported by independent alliance members in the United States and Australia. It delivers water, sanitation and hygiene education through its offices in 17 African, Asian and Pacific nations. Since it was founded in 1981, WaterAid has earned a worldwide reputation for its sustainable approach, innovation, and leadership, winning numerous national and international awards, including the prestigious Stockholm Water Prize.
To participate in the auction, fans of The Police should go to
http://www.ticketmaster.com/thepolice
on Tuesday, May 1st beginning at 10 a.m. Eastern Time (U.S.). The auction will close on May 11th.
Editors' notes: Water is a basic human need and right, yet over 1 billion people lack access to safe water. Twice as many, 2.6 billion - over 40 percent of the world's population - lack a safe and clean place to go to the toilet.
- Households in rural Africa spend approximately 26% of their time fetching water, and it is generally women who are burdened with the task;
- 443 million school days are lost each year due to water-related diseases;
- Water-related diseases are the second biggest killer of children worldwide.
WaterAid provides practical, sustainable solutions, made more effective through local and international collaborations, and advocates policies that combat disease, advance education, and reduce poverty in some of the poorest, most vulnerable communities in the world. Partnering with more than 300 local organizations, WaterAid has helped nearly 10 million people access safe, clean water. In 2006-07, WaterAid will cap a quarter-century of achievement by delivering water to 1 million people and sanitation to another 1.5 million people.
www.wateraid.org/usa