Virgin Festival by Virgin Mobile returns to Baltimore with two days of the best of Indie/Alternative Rock, Electronica - Tickets on Sale May 5...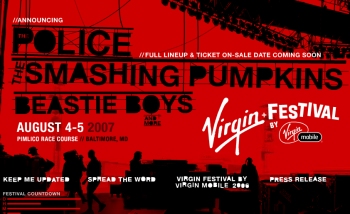 The second Virgin Festival By Virgin Mobile in the United States returns August 4-5, 2007 to Pimlico Race Course in Baltimore, Maryland with a stunning and diverse list of artists and top deejays and two days of crazy energy and excitement. Sir Richard Branson previously announced that headliners The Police and The Smashing Pumpkins will appear as well as the Beastie Boys. Now, the entire line-up has been confirmed:
Saturday, Aug 4 [listed in alpha order]
BEASTIE BOYS
BOOKA SHADE
CHEAP TRICK
FELIX DA HOUSECAT
FICTION PLANE
FOUNTAINS OF WAYNE
THE FRATELLIS
BEN HARPER & THE INNOCENT CRIMINALS
INCUBUS
LCD SOUNDSYSTEM
MIGUEL MIGS [Petalpusher]
MODEST MOUSE
PAOLO NUTINI
PETER BJORN AND JOHN
THE POLICE
SASHA & JOHN DIGWEED
SHOUT OUT OUT OUT OUT
DANNY TENAGLIA
TV ON THE RADIO
SANDER VAN DOORN
AMY WINEHOUSE
Sunday, Aug 5 [listed in alpha order]
311
BAD BRAINS
CHRIS CORNELL
THE CRYSTAL METHOD [DJ set]
CSS
DEEP DISH [Dubfire & Sharam]
DIESELBOY & ANDY C with
MC GQ and MC Messinian
GIRL TALK
INFECTED MUSHROOM
INTERPOL
M.I.A.
MATISYAHU
THE SMASHING PUMPKINS
REGINA SPEKTOR
SPOON
VELVET REVOLVER
WU TANG CLAN
YEAH YEAH YEAHS
JAMES ZABIELA
Tickets for the two-day festival go on sale May 5, 2007 and are priced at 5 for General Admission and 0 for VIP. Tickets are available through Ticketmaster (
www.ticketmaster.com
or 1-800-551-SEAT). Single day tickets, if still available, will go on sale May 19 and be priced at .50 for single day General Admission tickets and 0 for single day VIP tickets. Virgin Mobile USA customers can take advantage of a promotional pre-sale period during which a limited number of tickets will be available for purchase. Prices include 10% Maryland Admission & Amusement Tax, and a charity donation of ,.50 per day is added. More information about Virgin Festival By Virgin Mobile can be found at
www.virginfestival.com
.
"Our fantastic line-up will be sure to excite festival-goers of all ages," said Sir Richard Branson, whose entrepreneurial focus on the environment has caught global attention. "We're going to redefine cool at one of the hottest and greenest destinations for live music this summer."
"Virgin Festival By Virgin Mobile is the perfect platform for us to celebrate our company's and our customers' connection to an eclectic range of music along with the energy and discovery that comes with live events," Dan Schulman, chief executive officer of Virgin Mobile USA, said.
"Virgin has earned a world-wide reputation for hip, innovative products and services, and the excitement of our brand extends to our music festival," said Frances Farrow, chief executive officer of Virgin USA. "Every summer, we bring together a community who gets to enjoy music as well as everything else that Virgin has to offer."
Seth Hurwitz, head of Festival producers I.M.P., said, "With two stages, we're very selective about our line-up. It's all about quality over quantity, the flow of the event and how the bands overlap. With the limited slots available we have to keep it A-list talent from top to bottom." I.M.P. is one of the country's leading independent concert promoters and owners of Washington, D.C.'s famed 9:30 Club.
Kyocera Wireless Corp., a leading global supplier of CDMA wireless devices and accessories, will again be the premiere handset partner for Virgin Festival By Virgin Mobile, sponsoring several elements both leading up to the festival and during the two-day event. Other Festival sponsors include Anheuser-Busch, Citibank, the MLB Authentic Collection and Virgin Megastores North America.
Virgin Festival By Virgin Mobile will also feature a broad selection of vendors and exhibitors as well as interactive art installations, performance art and lots of surprises. The event will take place less than an hour from Washington, D.C., two hours from Philadelphia, and three hours from New York City. Historic Pimlico Race Course in Baltimore, MD is the home of the world famous Preakness Stakes, the Middle Jewel of Thoroughbred Horse Racing's storied Triple Crown.