Lyrics by Sting - to be published as a Dial Press Hardcover on October 23, 2007...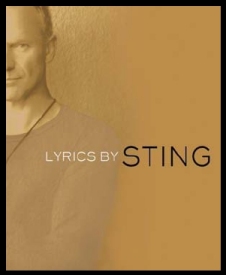 The Bantam Dell Publishing Group announces the publication of LYRICS, the second book by Sting, the world-renowned and award-winning singer, songwriter and human rights activist. LYRICS is a comprehensive collection of lyrics with commentary written by Sting, spanning his entire career. The Dial Press also published Sting's acclaimed New York Times bestselling memoir, Broken Music, in hardcover in 2003 and in trade paperback in 2005.
LYRICS features more than 100 songs, presented in chronological order from the first Police album Outlandos D'Amour to Sting's most recent solo rock album, Sacred Love. Sting has also penned original commentary about his writing process, the inspiration behind the albums, and the evolution of his career as a songwriter. The book includes an introduction as well as photographs from each period of Sting's career. Some samplings include -
On 'Roxanne' from 'Outlandos D'Amour' (1978)
'I wrote 'Roxanne' in Paris in 1977... Inspired by the romance and sadness of Edmond Rostand's great play Cyrano de Bergerac and the prostitutes on the street below, 'Roxanne' came to life. I've sung this song on most of the nights of my life since then... I always manage to find something new in it and I'm still grateful.'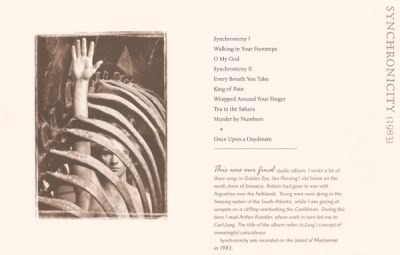 On 'Don't Stand So Close to Me' from 'Zenyatta Mondatta' (1980)
'Yes, I was a schoolteacher. No, the song is not autobiographical! ...I'm interested in obsession, and Vladimir Nabokov's Lolita is a fascinating study in dangerous obsession. I transposed this idea to a relationship between teacher and his pupil...'
On 'Spirits in the Material World' from 'Ghost in the Machine' (1981)
'I thought that while political progress is clearly important in resolving conflict around the world, there are spiritual...aspects of our recovery that also need to be addressed. I suppose by 'spiritual' I mean the ability to see the bigger picture... .Without this, politics is just the rhetoric of failure.'
On 'Every Breath You Take' from 'Synchronicity' (1983)
'My original intention was to make it a seductive love song, but what I ended up with was something much darker. My life had invaded the song. Everything around me seemed to be disintegrating: my marriage, my band, my sanity, and this at a time when, from the outside, I appeared to be one of the most successful musicians of the world.'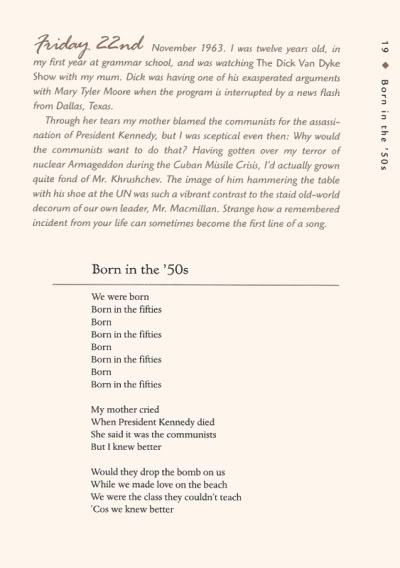 On 'If You Love Somebody Set Them Free' from 'The Dream of the Blue Turtles' (1985)
'This song was as much a hymn to my newfound freedom as it was an antidote to the brooding issues of control and surveillance that haunted 'Every Breath You Take.''
On the album 'The Soul Cages' (1991)
'My father died in 1989. We'd had a difficult relationship, and his death hit me harder than I'd imagined possible. I felt emotionally and creatively paralyzed... Eventually I talked myself into going back to work, and this somber collection of songs was the result. I became obsessed with my hometown and its history, images of boats and the sea, and my childhood in the shadow of the shipyards.'
On 'Fields of Gold' from 'Ten Summoner's Tales' (1992)
'In England our house is surrounded by barley fields, and in the summer it's fascinating to watch the wind moving over the shimmering surface, like waves on an ocean of gold. There's something inherently sexy about this sight, something primal... Lovers have made promises here, I'm sure, their bonds strengthened by the comforting cycle of the seasons.'
On 'The Book of My Life' from 'Sacred Lov'e (2003)
'I like to sit in front of the fire at night and reflect. Memories always come up - thoughts, ideas, visions - and if you let them, ghosts will sit with you awhile, if you're not too afraid, that is.'
Sting's recordings have collectively sold over 90 million copies during the course of his remarkable career as a solo artist and as a member of the Police. Currently, Sting and the Police are in the midst of a sold-out world reunion tour.
Sting will also appear on The Today Show (NBC) on October 30 to talk about the book.
The book can be pre-ordered here: