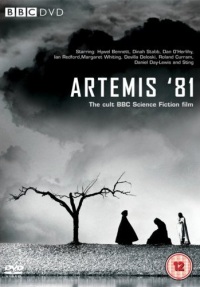 Great news for those who enjoy Sting's acting performances with the news that the BBC have released "Artemis '81" on DVD.
"Artemis '81" is A little seen, three hour long, made for TV movie which was originally broadcast by the BBC in December 1981 and directed by Alastair Reid. The film has never been rebroadcast, and, as the movie pre-dated the advent of the home video, and has never been commercially released in that format, it is safe to say that few people have actually seen it! The result? Cult status, naturally. Described by the BBC as a "psychological thriller", Sting plays an alien angel, Helith, the "Angel of Love" who is at war with his evil brother Asrael (Roland Curram) the "Angel of Death" over the future of humanity. Meanwhile, on Earth, a pagan Nordic relic - a statue of Nordic goddess Magog - is stolen whilst being transported on a car ferry (all the ferry passengers later commit suicide). A musician, Von Drachenfels (Dan O'Herlihy) is haunted by the thought that he is cursed to bring about the end of the world, whilst novelist Gideon (Hywel Bennett) finds himself drawn into the plot. Variously described as "pretentious", "spooky", "obtuse", "impressive" and "frequently brilliant" so it's a pleasure to see this finalkly being released!
Speaking about his role in the movie back in 1981, Sting told the NME, "It's three hours long, very erudite, very dense - and a lot of people would say it was very pretentious. I don't know what it's like. I've no idea. I think it could be very good. Then again, I could be awful. It's very hard to tell. When you're on-stage the way the ritual is set up, you get feedback. On a film set you say a line and the director says, cut, and there's not thousands of people saying Yeah! Really great! There's no audience and I find that scary."
The DVD can be ordered below: