WaterAid Announces Benefit Ticket Auction to The Police Concerts in North America...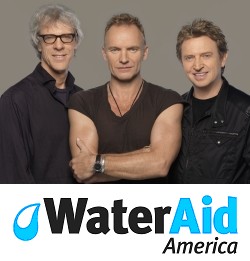 VIP Ticket Packages Include Two Front Row Center Seats to North American Concerts by The Police; All Proceeds to Benefit Non-Profit WaterAid.

Today WaterAid announced that a special benefit ticket auction for VIP ticket packages to concerts on the North American leg of The Police's world tour will be held on the non-profit auction web site Mission Fish beginning this week. The proceeds from this auction will benefit WaterAid, a non-profit organization whose mission is to overcome poverty by working with people in the world's poorest countries to improve access to safe water, sanitation and hygiene education.

This week, two front-row-center VIP seats for upcoming The Police concerts will be auctioned on Mission Fish's website at: http://www.missionfish.org/NPMMF/nphomepage.jsp?NP_ID=17803.

In addition to the best seats at each venue, the highest bidders will receive a VIP package including pre-show hospitality, an autographed tour program, parking and, at select venues, admittance to a sound check party.

On February 12, 2007, The Police announced that they would contribute a portion of the proceeds from their highly anticipated worldwide tour to WaterAid. In a statement, The Police said, "We are proud to support WaterAid in their mission to improve access to safe water, sanitation, and hygiene education in the world's poorest countries. We hope the funds and awareness raised during the tour will help to shine a light on WaterAid's efforts to bring help to millions of people in need."

To participate in the auction, fans of The Police should CLICK HERE.

For More Information on WaterAid please visit www.wateraidamerica.org.

About WaterAid: WaterAid is the world's leading independent non-profit organization dedicated exclusively to working with people in the world's poorest countries to improve access to safe water, sanitation and hygiene education. Founded in 1981, it operates in 17 countries throughout Africa, Asia and the Pacific region and has helped more than 11 million people gain access to safe water through low-cost, sustainable projects that can be locally managed and maintained. With a goal of expanding operations to assist 1.3 million people to gain access to safe water and 1.5 million people to gain sanitation this fiscal year, it has earned a worldwide reputation for its effectiveness and leadership and garnered numerous national and international awards, including the prestigious Stockholm Water Prize.