Actually Roxanne, I like the red light - Sting interview in today's Sunday Times...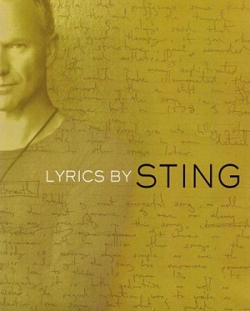 Actually Roxanne, I like the red light...
Sting is a rock icon who wants to save the rainforest. But how does he square his green credentials with his seven homes? Taking a break at the one in Malibu during his world tour with the reformed Police he talks about lyrics, politics and the cook who took him to court.
You can take the man out of Newcastle but you can't, in this case, take Newcastle out of the man. Gordon Sumner - nicknamed Sting by his Geordie mates because of his adolescent fondness for yellow and black stripy jumpers - is resting up in his Malibu oceanfront house. In a few days he will fly to New York where his recently reunited band, the Police, will soon start the second leg of their box-office-busting American tour.
Sting is pining for the grey skies of Blighty - "Whenever I'm away from home for any length of time I really miss the rain." Cool customer that he is, he's been none too impressed either with the panicked reaction of Alist neighbours such as Tom Cruise and Pamela Anderson to the Californian bush fires. "A few cars caught fire on the Pacific highway after the wind brought down some power lines. But the main danger to people around here was that they were running out of champagne.
"What we're experiencing in California right now is a reminder that if you don't take nature into account, it's going to come back and bite you."
The Police are midway through a world tour that will gross them an estimated 0m, augmenting the fortune they earned from the 80m albums they sold during their heyday in the early 1980s.
But in an otherwise wildly successful year, Sting, now 56, has taken a couple of nasty nips himself. While the Police were rehearsing for their tour in March, his household came under fire from Jane Martin, the family's former cook at his 800-acre Wiltshire estate, Lake House. At an employment tribunal in Southampton, Martin sued the Sumners for unfair dismissal, claiming she had been sacked for getting pregnant, after eight years of loyal service.
With the world's media agog for details, Martin obliged with colourful accounts of what she called the "wasteful extravagance" of the couple's lifestyle. The lady of the house, Sting's second wife, the actress and film producer Trudie Styler, had a "grandiose ego" Martin informed the tribunal.
The 42-year-old family retainer told of truffles couriered over from France to feed celebrity house guests such as Madonna. She also moaned about being regularly ordered to make an arduous journey from Salisbury to London just to prepare a soup and salad for Sting's brood, even though they also kept two housekeepers, two nannies and a butler on the premises of their two London homes.
In May the tribunal found in Martin's favour. The judgment alluded to the couple's "shameful conduct", and they were ordered to pay her £25,000 in compensation. Sting is not just unrepentant, he is hopping mad and has launched an appeal.
"You don't often get the right to appeal in these matters, so the tribunal recognises that we definitely have a case. We have been treated really unfairly and none of what was said about us is true. It's utter nonsense. I don't like to be blackmailed, which is basi-cally what she's doing. That's the threat that can always be made against people like us: give me what I want or I will tell stories to the press. So I said, 'Go ahead'."
Despite such bravura, the tribunal clearly believed Martin.
Sting's declared impervious-ness to bad press was tested again in September after he was spotted sitting in a car outside an upmarket brothel in Hamburg at two in the morning. Close associates regard such behaviour as normal for Sting, especially when he is on tour, and insist it is broadly accepted by his wife. "They have a fairly open marriage," says one former member of his business team. "Trudie knows that he's a terrible flirt. As long as he's looking and not touching and it's away from home, she'll turn a blind eye."
For his part, Sting seems completely unembarrassed by his long-standing interest in sex workers. The Police song he still most loves singing, he says, is Roxanne, in which a man begs his hooker girlfriend not to "put on the red light".
In a new book, Lyrics by Sting, containing the words to all of his songs, which is published tomorrow, Sting outlines how he wrote it in 1977 in Paris. In Malibu he picks up the story. "I was seeing that world for the first time. I'm sure it went on in Newcastle but in Paris there was a certain romanticism and a tradition around it. I loved observing it. I am interested in that demimonde."
As anybody who recalls his widely reported advocacy of tantric sex back in the 1990s will realise, Sting is not content merely to play the voyeur. "I think eroticism is incredibly important, at least as important as art and politics, and we make a huge mistake and pay a terrible price if we try to suppress it. You can't do that. The unconscious always wins."
This is fighting talk from a 56-year-old. Doesn't Sting ever feel - as Picasso remarked, looking back in later life on the amorous exploits of his younger self - that he is "chained to a lunatic"? He bursts out laughing. "I guess I'm still quite enjoying my lunatic."
Some may feel these tales of sexual indulgence and conspicuous consumption sit oddly with Sting's reputation as a rocker with a conscience. Unlike other do-gooders who have hopped on the Geldof/Bono bandwagon and are clamouring for the abolition of poverty in Africa, Sting has long been an active supporter of the green movement.
In 1989 he and Trudie set up a charity, the Rainforest Foundation, to preserve the ancestral homeland of Amazonian tribes-people in Brazil. "It grew out of a childhood thing. I was always fascinated with South America in geography lessons at school." Today the foundation has shifted continents and is chiefly engaged in the defence of the world's second largest rainforest in the Congo. It raises and spends around £500,000 a year in donations but deliberately avoids grandstanding events such as Live 8 - which Sting took no part in. The Rainforest Foundation website barely mentions him and his missus at all.
"We're still doing the work we set out to do, but we're doing it quietly because I don't want to make this look like a personal crusade. We've demarcated a piece of land the size of Switzerland in the Congo. It's not just about saving trees, it's about creating a legal infrastructure so that native people can carry on living there. That's the model we've used in Brazil, the Far East and in Madagascar."
When Sting began daubing himself with traditional Amerin-dian body paint - "He's on the woad again!" as one waggish headline put it - his ecological interests seemed eccentric. How does he feel now that they have become the stuff of mainstream British politics? "I find very little difference between Cameron and Gordon, on anything actually. And maybe that's a good thing. We're all ecologists now.
"I'm sure there is a bit of pandering to focus groups, but perhaps it also means that the political parties have realised at last that the real issue isn't about the workers versus the employers any more, it's about the lives of all of our children and grand-children. The politicians all know that if we're going to survive as a species into the next century we can't carry on the way we're going."
His lack of cynicism is astounding, I say. Sting laughs. Even though he has written songs deploring the Labour government's support for the war in Iraq, and considers himself a floating voter, he is still a soft leftie at heart. "I think we should give people the benefit of the doubt."
He could certainly do with some of that himself. The use of his song Desert Rose in a TV ad for a gas-guzzling Jaguar car in 2000 was a bit of an environmental faux pas, and led to him parting with his long-term manager, Miles Copeland.
You can't help wondering now how Sting squares his green concerns with a whopping carbon footprint that takes in seven homes, ranging in size from the Lake House estate in Wiltshire, through a slightly smaller baronial pile in Tuscany to a duplex penthouse in Manhattan and a cottage in the Lake District. And why oh why does he own a place anywhere near the ecologically unsustainable, former desert that is Los Angeles county?
"I get a lot of criticism but it never seems very substantial," Sting says, with lofty nonchalance. "What am I supposed to do, live in a cave? I only have a house in Malibu because I need to work a lot in LA."
Work currently is the Police's world tour, their first since the band split in the mid1980s. It kicked off in Vancouver in May, touched down at Twickenham in September, and travels to the Far East in the new year, ending back in Europe in June 2008.
This will be the biggest and most lucrative jaunt of Sting's career; though, cynics please note, Britain's 388th wealthiest person (with a fortune of £185m, according to The Sunday Times Rich List) was not persuaded to undertake this tour for the money. "I resisted for 20-odd years. I've had the other two phoning me up, promoters, the record company. And my instinct was always 'no'. Then I woke up one morning and thought, 'What am I going to do to surprise people, and surprise myself now?' This reunion seemed as far in the opposite direction as I could go."
Relations with his two band-mates have improved, he says, since the days when the Police were renowned for their impromptu fistfights backstage. "We still argue, because we care passionately about the music. We don't just sit back and let it happen. But we're slightly more mature as individuals, so we navigate round each other better. It's less abrasive than it was."
Does this mean the Police might stay together after the tour finishes? Sting's answer is pure alpha male. "Perhaps. You can't predict. I'm sure the other two would love for us to record some new material. It's really just a question of whether I feel inspired."
© The Sunday Times by Robert Sandall