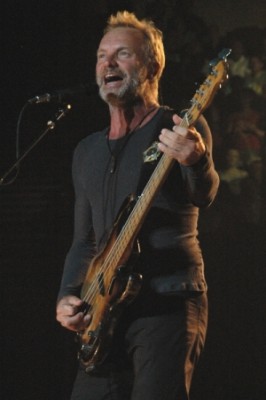 Sting: surviving the fallouts...
As he contemplates the end of the era of big tours, Sting tells Neil McCormick how he has coped with a year of life on the road.
On Sunday night in Hyde Park, London, The Police will play for British audiences for the very last time.
"This is the last Police tour, there won't be another one," according to Sting. "It's the end of an era."
The leader of the reunited three piece Eighties supergroup is evidently cheerful at the prospect. "I'm glad I did it, and I will be glad when we finally finish. Everything in life ends. I'm not particularly sentimental. Things should end so that something new can be created."
People were surprised when the solo star instigated a reunion last year. "I surprised myself," he confesses. "Reforming the Police was the last thing I would have done logically, which is exactly what made it so appealing."
The trio of Sting (aka Gordon Sumner), guitarist Andy Summers and drummer Stewart Copeland had a succession of global hits and five best selling albums before separating in 1984 in some rancour. With a notoriously combative working relationship, few would have bet on three such wilful and headstrong individuals surviving another year on the road without fallouts. Summers recently admitted he didn't think they would make it through rehearsals.
advertisement
"We've done 125 shows together without committing fratricide," notes Sting. "It was hard work. I knew it would be tough but it was also very rewarding in many ways - certainly financially, but also spiritually interesting, learning that all of us had advanced from the young men that we were, but also stayed more or less the same."
The tour (which finally concludes with a charity show in New York on August 7th) has been one of the most lucrative in history, reaching some three million people and grossing in the region of 0 million. "It's like mum and dad got back together. There's sentiment there, which I understand. People like things to have continuity."
The biggest change since The Police toured in the Eighties is the actual experience of life on the road. "I'm not in a bubble, I'm on the internet every day, I read the papers, I know what's going on. Moving around the world, I see the global village at work. I see how connected we really are. The problems that we have in South America are related to the problems we have in Europe. But that sense of connection is true for everybody, this information thing is accelerating. I don't know where it's taking us but I've got a feeling that it's good. Human beings evolve through crisis. We are certainly heading for a crisis."
Sting has long been one of the most environmentally active of rock stars, once broadly mocked for his defence of the rainforest, but as global warming becomes recognised as a genuine threat to humanity, he claims to be broadly optimistic about the future. "I think optimism is really the only strategy you can have. But it's going to demand innovation and great minds coming together."
Although The Police have done whatever they can to ameliorate the environmental impact of their tour, including using a stage made of recycled materials and fitting auxiliary power units to their trucks (saving up to 60 gallons of fuel per truck per week), Sting is acutely aware that it is not enough.
"Let's be honest, our carbon footprint is massive. But then every industry's carbon footprint is massive. Maybe this is the last era of big tours, unless we innovate. I read a wonderful article about container ships having massive sails attached to them. It's like a Jules Verne fantasy but it would cut the cost of shipping.
"There are equally fantastic solutions to touring. Can you imagine zeppelins going around the world with tours underneath them, with a stage, the band, all the equipment and lights, and just lowering themselves into a car park somewhere? And then off they float. Crazy and fantastic, but who knows? We certainly can't rely on cheap oil any more."
His mood of optimism does not extend to political developments on the home front. "I'm a little despondent about it. I've been a Labour supporter all my life but we don't seem to have a Labour party anymore. I had high hopes for Gordon Brown, in that he seemed less telegenic and more focused, but it turns out people want the soundbite, they want the smiley face."
As for the new mayor of London: "Well, Boris is colourful, I'll give him that. But we are talking about personalities not policies. It's like these people are rock stars. There are very few who just get on with the job."
With regards to his own job, Sting claims to have no idea what will come next. "For me, that's liberation. The Police is part of my life that I'm extremely proud of and it's been great to revisit, but that can't be everything. I have so much to find out and being in a band often stunts your ability to learn. It's a very tight little parameter that you can't really escape from.
"I need a wider palette than the Police to write for. I think I've done that job. There are some bands that just go on for ever and ever but it doesn't sound to me like a creative alternative. I need to take the risk of jumping out of the plane now and then. Which is what I did 25 years ago, and now I'm doing it again."
© Daily Telegraph by Neil McCormick