'Spectacle: Elvis Costello with...' Announces Guest Lineup for Remaining Episodes Taping In September...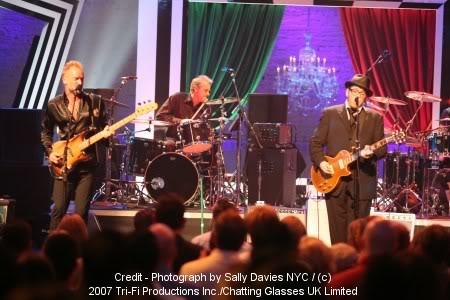 Guests to include Diana Krall, James Taylor, Rufus Wainwright, Norah Jones, Kris Kristofferson, Herbie Hancock and Renée Fleming...
'Spectacle: Elvis Costello with...' has announced the final set of guests for the new talk/performance series' debut season. The series is set to premiere later this year on Sundance Channel in the U.S., CTV in Canada and Channel 4 in the U.K., with FremantleMedia Enterprises launching the series for international sale at MIPCOM in Cannes, France, in October 2008.
Confirmed guests of 'Spectacle: Elvis Costello with...' episodes to tape in September at Harlem's world famous Apollo Theater in New York City are: iconic American singer-songwriter James Taylor; jazz legend and winner of this year's Grammy Award for Album of the Year Herbie Hancock; one of the most acclaimed new artists of the past decade, Rufus Wainwright; the brilliant singer-songwriter Roseanne Cash; actor/singer-songwriter Kris Kristofferson; international jazz sensation Diana Krall; recent Rock and Roll Hall of Fame inductee John Mellencamp; singer-songwriter Jakob Dylan; the indie duo She & Him (formed by actress Zooey Deschanel and M. Ward); international sensation Norah Jones; singer-songwriter Jenny Lewis; and from the world of opera, the great American soprano Renée Fleming.
As previously announced, the Canada/United Kingdom co-production will also feature The Police, President Bill Clinton, Tony Bennett, Lou Reed, Smokey Robinson, and Sir Elton John, who is also one of the program's Executive Producers.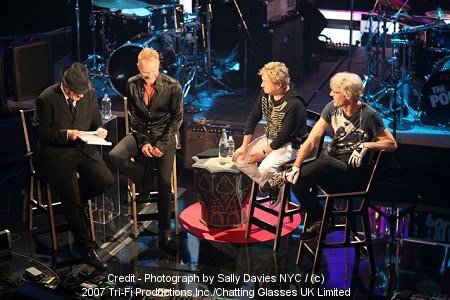 The series of 13 one-hour episodes will feature everything from intimate one-on-one interviews with legendary performers and notable newcomers to unprecedented, once-in-a-lifetime musical performances and collaborations.
Consistent with Sir Elton John's long-standing commitment to philanthropy and music, the series producers have struck an exciting association with the (Product) RED (www.joinred.com) campaign created to raise awareness and money for the Global Fund (www.theglobalfund.org) to fight AIDS, Tuberculosis and Malaria in Africa. Select program excerpts and performances will be distributed in a variety of new media and conventional platforms, with a portion of the profits directed to the Global Fund.
Spectacle: Elvis Costello with... is produced by Rocket Pictures, SpyBox Pictures, Prospero Pictures and reinvention entertainment, in association with Sundance Channel, CTV, Channel 4 and FremantleMedia Enterprises. Executive Producers are Sir Elton John, Elvis Costello, David Furnish, Steve Hamilton-Shaw, Jordan Jacobs, Martin Katz and Stephen Warden. Co-Executive Producer is Alex Coletti.