Sting profile in 'North East Life' magazine...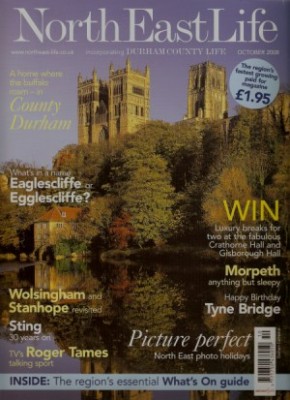 The October 2008 issue of North East Life magazine includes a profile of Sting, celebrating the 30th anniversary of the release of 'Outlandos d'Amour' as well as his 57th birthday. Available from newsagents price £1.95...
A Sting in the tale - Geordie superstar Sting celebrates the 30th anniversary of The Police's first album 'Outlandos D'Amour' this month and he also turns 57.
Gordon Sumner's life changed for ever when fellow North East musician Gordon Solomon spotted his and yellow hooped sweater in 1973 and christened him Sting. As a solo musician and member of The Police, the lad from Wallsend has since sold over 100 million records and received more than 16 Grammy awards for his work.
But it was back in the early Seventies that he forged his stagecraft at the coal face of performing - in the pubs and working men's clubs of Tyneside, Wearside and Teesside.
For Sting paid his early musical dues playing bass with local outfits such as The Newcastle Big Band, The Phoenix Jazzmen Gordon 'Solly' Solomon was the bandleader - and the cult band Last Exit, which featured his first efforts at songwriting.
After a string of jobs working as a bus conductor, labourer and tax officer, he finally qualified as a primary school teacher and found he could make a wage while trying to pursue his dream.
In his frank and revealing autobiography, 'Broken Music', he recounts the gruelling slog of those early days when he was working at St Paul's First School in Cramlington by day and taking whatever work he could find playing by night.
In one hilarious episode he remembers The Phoenix Jazzmen running for their lives' from the Red House Farm Social club in Sunderland when Solly inadvertently broke the bingo machine and sent the numbered ping pong balls spraying all over the audience.
But what shines through is his utter determination to make it on his chosen path - even though in the early days his undeniable musical ability in the more complicated, syncopated world of jazz was often found wanting.
'I always had the idea that I could make a living as a musician. That was my only ambition and is still my only ambition - to make a living out of playing music,' he says.
'But I developed a taste for jazz quite early and deliberately because it's music I didn't like at first. A taste in jazz music is something that you have to learn. It's not something that you possess naturally.'
When Tyneside entrepreneur and bandleader Andy Hudson was looking for a bass player for the Newcastle Big Band, Sting auditioned. He made a mess of it because of his limited talent on the instrument in those days - but Andy gave him another chance and he eventually got the job after investing solid weeks of practice at sight-reading.
The band contained several leading players on the Tyneside jazz and rock scene in those days including drummer Ronnie Pearson, guitarist John Hedley and keyboard player Gerry Richardson.
These latter three musicians, with Sting, formed Last Exit in 1974. They were the only band in Newcastle then playing an eclectic mix of jazz and blues numbers ranging from Chick Corea's 'Hymn of the Seventh Galaxy' to Fleetwood Mac's 'Need Your Love So Bad' - always their set-closer.
During his spell in Last Exit, Sting actually wrote 'The Bed's Too Big Without You' - which later appeared on the Police's second album 'Regatta de Blanc' in 1979.
Although from the tough streets of Walls end - he grew up in Gerald Street in the shadow of the Swan Hunter shipyards and came from a family of shipwrights and fitters - he always aspired to literature and music.
His mother, Audrey, worked as a hairdresser but was also a gifted pianist and it was from her he took his musical cue. Meanwhile, his English teacher at St Cuthbert's Grammar School in Benwell nurtured his love of words.
After soaking up early musical influences at home, including Elvis Presley and Little Richard, he was left an old acoustic guitar by an uncle. And enthralled by the Beatles - like a whole generation of kids - began learning the chords to all of Lennon and McCartney's songs.
As a teenager, academic work would come second best to visits to the legendary Club A Go Go on Percy Street, Newcastle, where he had his mind blown by American guitar genius Jimi Hendrix.
He says; 'Being born next to a river and a shipyard was a fascinating and very stimulating background, but I just thought it was somewhere to escape from. I think the shipyard was a perfect symbol for my life. They would build these giant ships for 18 months then launch them into the river and sea, never to come back.
'I thought that was an image for my life; 'I'm building myself up here and I'm gonna be launched out into the world."
Last Exit were very big in the North East, but their jazz fusion was doomed to fail when punk rock exploded on to the music scene in 1976. Stewart Copeland, drummer with Curved Air, saw Last Exit on a visit to Newcastle and, while the music did nothing for him, he did recognise the potential and charisma of the bass player. Within months Sting had left his teaching job and moved to London with actress wife Frances Tomelty. He has a son Joe, now 32, and a daughter Kate, 26, from that marriage.
Copeland and Sting - together with Corsican guitarist Henri Padovani - started rehearsing and looking for gigs. Replacing Padovani with the virtuoso talents of Andy Summers, the band also enrolled Stewart's elder brother Miles as manager, wowing him with a Sting song called 'Roxanne'.
Within days Copeland senior had them a record deal with A&M and their first album, 'Outlandos d'Amour', was recorded for just £3,000.
Although they jumped on the punk bandwagon they were all accomplished musicians a world away from the likes of Johnny Rotten of the Sex Pistols and their three-chord din.
Sting recalls: 'We flew the flag of punk to get in through the door and then we became ourselves.'
If the Police's punk disguise didn't fool the hip music press it certainly won them a huge army of fans across the Atlantic.
Ever mindful of the importance of building a solid fan base by playing live gigs - a trait of Sting's Last Exit days - they immediately toured the States courtesy of bargain flights from Freddie Laker's pioneering Skytrain.
They drove their own van and humped their own equipment from venue to venue, playing to tiny audiences at the likes of CBGB's in New York and The Rat Club in Boston.
But the sound the trio made was unique - a combination of new wave toughness and reggae rhythms. And Sting's pin-up looks did them no harm at all.
It was a spare style, with a sparse economy of sound, best exemplified in the two chart-topping singles from their second album, 'Message in a Bottle' and 'Walking on the Moon'.
Between 1978 and 1983 they released five chart-topping albums and won six Grammies. Their last album, 'Synchronicity', included their most successful hit, 'Every Breath You Take'.
A hugely successful solo career has included a string of hit albums including 'The Dream of the Blue Turtles', 'Nothing Like the Sun', 'The Soul Cages', 'Ten Summoner's Tales', 'Mercury Falling', and 'Brand New Day'.
In 1992 he married Trudie Styler and they have two daughters Mickey, 24, and Coco, 18, and two sons Jake, 23, and Giacomo,12.
In 2003 he was made a CBE - he dedicated the award to his parents Ernie and Audrey, who both died of cancer - and the following year was awarded the prestigious Silver Heart from the Variety Club in Newcastle for his services to music.
Proud Tynesider Sting was back again in 2006 when he was awarded an honorary doctorate in music by Newcastle University and marked the event by playing a special reunion gig with his old Last Exit pals at the Gateshead Sage.
Then the wheel finally came full circle last year when he reformed the Police for a 12-month reunion tour, playing to a staggering two million fans.
© North East Life by Michael Hamilton
Shooting Stars
Celebrity snapper Dave Hogan admits he was overawed when he first photographed Sting more than 25 years ago.
'When I was at art college, 'Walking On the Moon' was our big student anthem. Everyone worshipped The Police.
'So to get to photograph your musical heroes is fantastic. In America, particularly, Sting's like a god.
'But when you work with him he's very down to earth. Although he's a musical legend and one of the all-time greats he's always easy to deal with.
'I think he's one of the very few celebrities who seems to enjoy life as a celebrity too. Maybe that's because, unlike some of them, he's never lost sight of the fact that he came from a normal background.
'The Police paid their musical dues. They went around America in the back of a van playing the smallest, most obscure venues to get their name around.
The new breed of reality TV stars get instant nationwide adulation and they think that's the norm. They don't do their basic training. They don't have to work hard for fame - it's handed to them on a plate.
'If they fluff a song on TV they stop the recording and start all over again. Playing the working men's clubs in the North East is probably the toughest possible basic training.
'You have to be able to sing and play live and you have to be brilliant to win over an audience.'
Dave photographed Sting at Live Aid in 1985 and most recently shot him on the Police reunion tour when they headlined the Isle of Wight festival.
Sting was so impressed with the famous shot of him leaping in the air he asked Dave for copies for his personal collection.
'He did the famous jump he used to do 30 years ago. He's really fit you wouldn't think he was 57.'
Dave's 12-year-old son Harry also is a pal of Sting's son Giacomo and often stays over at one of the multi-millionaire's London homes.
And he gets a taste of the high life when he stays at chez Sting. They took him to posh San Carlo restaurant - the most expensive eaterie in upmarket Highgate.
'When they take the kids out for a meal, its not Pizza Express like we would take them out. I told him not to get too used to that level of luxury!'