Sting & Edin Karamazov perform at Luciano Pavarotti tribute concert in Jordan...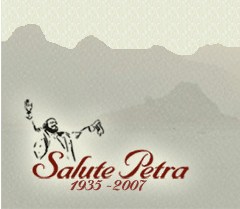 Sting and Trudie were among the stars who paid tribute to the late opera singer Luciano Pavarotti last night at a private memorial concert in the ancient red rock city of Petra in Jordan to commemorate the Italian tenor's music and humanitarian work.
Speaking before the event, held on what would have been Pavarotti's 73rd birthday, Sting said: 'He had a big appetite this man, he had a big appetite for everything. He had an appetite for life but it was matched by a huge generosity with spirit. Luciano was a big man, he had a big heart and that generosity was transformed to his voice - and when we heard his voice, all of us were richer.'
Opera stars Placido Domingo, Andrea Bocelli, Roberto Alagna and Jose Carreras, Italian rock singer Zucchero and hip-hop star Jovanotti also paid their respects to Pavarotti, who died from cancer aged 71 in September 2007, at Sunday's concert. He perfomed two songs - 'Fields of Gold' and 'Have You Seen the Bright Lily Grow' with Edin Karamazov and dueted on a Mozart piece, 'L?? Ci Darem La Mano' with Angela Gheorghiu.
Other events marking the first anniversary of the singer's death have been staged in New York, Rome and Paris.