Sting presents 'Songs From The Labyrinth' live in Kuala Lumpur, Malaysia...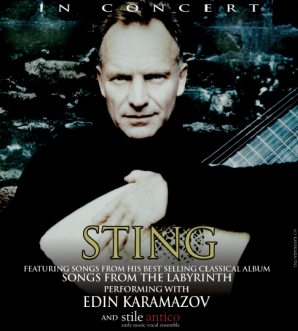 An Axcellent Production are proud to present Sting in concert, performing with Edin Karamazov and Stile Antico, in support of a special edition of the critically-acclaimed album, 'Songs from the Labyrinth' - a personal tribute to late 16th-century Elizabethan composer, John Dowland (1563-1626).
'Songs from the Labyrinth' began as a Deutsche Grammophon recording project in 2006 which surpassed all expectations by debuting at the top of the classical charts in the US, UK, France, Canada & Germany. The album remained on Billboard's #1 classical charts for fifteen consecutive weeks and was the top selling classical album of both 2006 and 2007.
Sting was first introduced to the music of John Dowland in the early 1980s, and has said that Dowland's music has been "gently haunting" him for more than twenty years.
Edin Karamazov, a protégé of the legendary conductor Sergiu Celibidache, has been Sting's partner in this project from its conception.
Also joining Sting and Edin Karamazov on this tour is the British a cappella choir Stile Antico, who are featured in all the European performances of 'Songs from the Labyrinth' to date, giving vocal accompaniment to some of the more raucous tavern songs and gentle lullabies that are found in Dowland's wide-ranging music.
Who: Sting & Edin Karamazov
Date: December 7, 2008
Time: 8:30 PM
Venue: KL Convention Centre, Plenary Hall, Kuala Lumpur
Price: from MYR380
Tickets are available at axcess hotline: 03-7711-5000 or visit
www.axcess.com.my
for more info.
TOUR ITINERARY
30 Nov 2008 - Opera House Concert Hall, Sydney
01 Dec 2008 - City Hall, King George Square, Brisbane
03 Dec 2008 - The Arts Centre, Hamer Hall, Melbourne
05 Dec 2008 - Concert Hall, Perth
07 Dec 2008 - KL Convention Centre (Plenary Hall), Kuala Lumpur
08 Dec 2008 - Esplanade Hall, Singapore
10 Dec 2008 - Jockey Club, Hong Kong
16 Dec 2008 - Orchard Hall, Tokyo
17 Dec 2008 - Orchard Hall, Tokyo
18 Dec 2008 - Orchard Hall, Tokyo
20 Dec 2008 - Festival Hall, Osaka
21 Dec 2008 - Yokohama Pacifico, Yokohama