Sting interview: Courier Mail...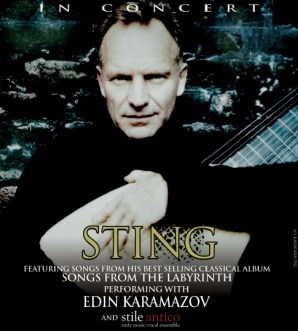 Sting finds lute after a fond farewell with The Police...
Sting has an insatiable addiction to adulation.
He has spent three decades touring the world and has just completed one of the biggest roadshows in rock history - this year's The Police reunion extravaganza - so the 57-year-old Brit could be forgiven for taking time out to relax at his Tuscan villa.
Instead, Sting is on his way back to Australia for yet another tour, this time with his classical album, 'Songs From The Labyrinth'.
Two lute players (lutenists) - Sting and the world-renowned master of the instrument, Edin Karamazov - will pay tribute to the late 16th-century Elizabethan composer John Dowland.
"I have been on the road since 1975. It is my life," Sting tells The Sunday-Mail in an exclusive interview.
"I have a lovely family and lovely homes everywhere but I like touring," he says. "It is my lifeblood, really. I can't imagine life without it. You can feel tired and exhausted and a bit depleted, and you walk out in front of an audience, no matter how big, 80,000 people or 100, it doesn't matter, you walk out there and they give you this amazing shot in the arm of enthusiasm and welcome.
"It is a very hard thing to give up. It is a lovely thing walking out on stage and seeing people genuinely pleased to see you and generally willing to hear what you have to say and sing. I don't want to give that up. It is wonderful."
Sting - born Gordon Sumner - telephones Event from London, where he is taking a few days' break. There's none of the usual superstar palaver. Sting places the call himself and immediately apologises for having a cold-induced croaky voice.
It's all part of his reluctance to embrace celebrity, says the father of six who is married to actor/producer Trudie Styler.
"I don't have all these minders, 'posses' as they are called," he says. "I lead as normal a life as I can - a very charmed life, I have to say, but it is normal. I don't cocoon myself with all of this security and nonsense... I don't need to."
Sting is full of enthusiasm for the two lutenists' tribute to Dowland: "It is a complete antidote to all of that gigantism of playing to hundreds of thousands of people.
"The Police tour played to something like 3.7 million people. This tour we (will be doing) in Australia is sold out but it is the Sydney Opera House and venues like that, much more intimate, much more intense. The audience is very close."
Smaller crowds - such as the one which will be in Brisbane City Hall - are tougher than giant stadiums, he says.
"In many ways it is more difficult to entertain people that closely. But it is a challenge I relish," he says.
"You are very close, there is no safety net, there is no huge light show to hide behind. There is no smoke, no mirrors; it is really just music and a very intense kind of music and demanding music at the same time. It is a great contrast to all of that rock 'n' roll razzamatazz."
Speaking of which, this year's Police tour - their first after a 24-year break - was the third-most-successful international tour of all time, behind the Rolling Stones and U2.
By the time The Police played their final show on August 7 at Madison Square Garden in New York, they had played to nearly four million people, with ticket sales grossing about $A535 million.
But the band will never perform again, Sting vows.
"It was a great farewell. I don't think we overdid it. My instinct that it would be timely was correct. It was one of the biggest tours ever. I am very happy about that.
"I think we got to achieve what the Americans call closure because the Police never really finished, we just did other things. I think we have done it now."
After the classical tour comes another risky gig: a new opera, in which he will perform with close friend Elvis Costello, who plays the chief of police.
"I play a steel worker who falls in love with the opera, much to the chagrin of his communist friends," Sting says. "But when (Costello) suggested we do an opera, I said, 'I am not going to wear tights'."
As a solo artist, Sting has sold millions of albums the world over and had hits with the likes of 'Fields of Gold', 'Englishmen in New York', and 'We'll Be Together'.
His latest release topped the Billboard classical charts, and critics lauded the album as one of his best ever. But for Sting, what started out as a small side project was an opportunity to show his fans he isn't just a pop singer.
"Surprise is important, to keep surprising people with what you attempt," he says.
"You can fail. Failure doesn't matter, but it is important to try new things. I am not the kind of bloke who just wants to churn out the same thing, year in and year out.
"I can do that but I also want to try other things as well."
Sting isn't sure what his next surprise will be but is planning to begin work on another solo album.
Apart from adulation, Sting says his driving force is curiosity.
"I am curious about music. I am curious about the world and what we are doing. I think music has an important place, especially reflective music. I think we need to reflect a lot."
Despite years of touring Australia, Sting has had to wait until now for an invitation to play his most coveted venue, the Sydney Opera House.
"This is a huge fantasy of mine," he says.
© Courier Mail by Jonathan Moran