Dominic Miller new album with Peter Kater and live dates coming up...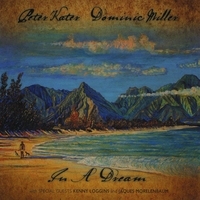 On the new album 'In A Dream', multi-Grammy Award Nominees, pianist Peter Kater, and guitarist Dominic Miller dissolve the borders between guitar and piano; classical and jazz; simple and complex. Soulful cello by Jaques Morelenbaum and lush vocal harmonies by Kenny Loggins add to this stunning album of acoustic instrumental compositions. A recording this beautiful comes along only once in a long while.
Listen to some excerpts from the album at
http://www.dominicmiller.com/
and order the album from
http://www.peterkater.com/
.
Dominic also has a number of dates coming up in the next couple of months if anyone fancies catching up with what he's been up to recently.
There are dates with his own band in Paris, Berlin, Leverkausen, Dresden, Aalen and Munster, dates with Sarah Jane Morris in Italy and Colombia (in 2009), some solo dates in Croatia and Italy, and a date next week in London with Antonio Forcione, Richard Bona and Guy Pratt.
For details of these dates and ticket information visit
www.dominicmiller.com
.