Something to Sting about - Surprise...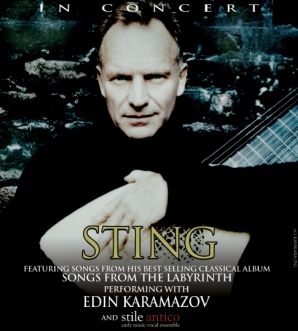 Something to Sting about...
Surprise. That's what Sting tries to do each time he performs. And that's what he hopes the audience will feel when he takes the stage at the Esplanade Concert Hall next month.
"I think it's important to keep an element of surprise with your public, so they never know what to expect next," he told TODAY over the phone from England. "You just keep them intrigued."
The musician, who started his career 30 years ago as the singer/bassist for the post-punk rock group The Police, has always experimented with various styles of music, even in the early days of his career. So, while it was a surprise to learn that he'd be recording an album of 16th century Elizabethan music by English composer John Dowland called "Songs from the Labyrinth" in 2006, it really wasn't that surprising either.
He previously tackled musical genres like jazz, funk and world music, played around with unconventional time-signatures (he uses a 9/8 tempo on "I Hung My Head", for example), and worked with musicians from different backgrounds such as French percussionist Mino Cinelu, Indian sitar player Anoushka Shankar and Algerian singer Cheb Mami.
"I think I've done it enough times for them to go, 'Okay, we trust you, let's see where it takes us'," said Sting of his musical journey. "It's a very unlikely direction for me to be singing 16th century songs with a lute, but a lot of people have been intrigued by it and enjoyed the journey."
But he's not above being surprised by the reaction of his listening audience. "I had no idea that we would sell one million copies of the album! It was very much a labour of love for me, for my own curiosity rather than from a commercial prospect.
"I gave it to (record label) Deutsche Grammophon and I expected it to be kicked out of the door, but they said, 'We'll take it'. And I thought it would sell a few, but a million copies - that was a big surprise!"
Which brings us to his upcoming concert here. The Songs from the Labyrinth tour, which will be performed with Edin Karamazov on the lute (a traditional plucked string instrument), was interrupted by The Police's massive reunion tour that started last May and ended in August this year. The band performed here in February, but Sting said he doesn't mind revisiting a country so often, especially since it will be for something completely different.
Said Sting: "It's nice to come back to Singapore with music that's so different from the last time when I played with The Police. We played a very big place last time.
"This music is in an intimate venue. There're no smoke and mirrors, no big noise. It's intense and theatrical. I've got a feeling the Singapore audience is going to appreciate that proximity and intimacy."
Here then, in his own words, is the man's thoughts on his new musical direction.
What can people expect for this 16th century Elizabethan show?
It's a pretty intense performance and you have to concentrate a great deal. It's like tightrope walking - without a safety net. There's nothing to hide behind - there really isn't.
But we've been doing this tour for a year before The Police (reunion tour), so we're pretty much up to speed with this. In the main set, I perform the songs of John Dowland, but in the encore I do loads of other English songwriters like Henry Purcell, Elgar, The Beatles and myself.
But why songs on a lute?
To try and draw a parallel - Dowland's music has a kind of DNA, and (I'm trying) to follow that DNA from the 16th century to the present day. Played on the lute, The Beatles, Elgar and myself, you can recognise an affinity with John Dowland. You can dress (songs) up with massive harmonies and layers, but ... I like to perform songs the way I wrote them, just on the guitar.
So "Roxanne" or "Message in a Bottle" sound really good to me just with voice and guitar - which is a bit like Dowland's music. That's how I like it, just bare bones. That's the beautiful thing about music - you can do whatever you like with it. It's there to play with. But my thing is to strip things down to its Zen-like skeleton.
Speaking of Zen-like, is simplicity your goal in life?
I try to live a simple life, although my life is fairly complex now, considering how many cities I live in, how I travel all the time and the different things I do. But I try to keep it as simple and human as possible.
And I've been on tour since 1975, so I'm kind of used to (travelling). If anything, the skill of staying in one place for a long period of time is something that I haven't really managed to develop yet. I'd like to settle down. But then I'd miss touring and travelling. So I'm like the (mythical ghost ship) Flying Dutchman, I'm always travelling.
Can you describe yourself in five words or less?
No. I'm probably a bunch of opposites: Humble, pretentious, tough, cowardly, all those things. You name the quality - I've got the opposite. Absolutely.
What's the most pretentious thing you've done?
Well... I don't think being pretentious is a particularly bad thing. We only grow up pretending to grow up - we're role-playing really.
What's the best thing about being Sting?
I have no choice, do I? (Laughs) I've led a very charmed life. I'm very fortunate and very grateful for my life. Is there a downside? No, I'm very happy to be me! I wouldn't change a damn thing. I've made mistakes but you learn from your mistakes.
Don't you ever tire of singing these old songs over and over again?
It's my job to sing songs (I wrote) 25 years ago with the same intensity and energy as if I'd written them in the afternoon.
That's my job. And I think I do my job very well! And it's also my job to sing songs from the 16th century and do them with the same energy as if they were written today. Music is its own reward. You don't need the Grammys, you don't need the platinum discs, you don't need anything more than the music itself. That's enough for me!
Really? So can you give me one of your many Grammys when you're here?
No problem. I won't miss it!
What will you do when the music's over?
Well, I have a nice garden. I can sit and watch the grass grow.
© TODAY/Channelnewsasia.com by Christopher Toh
Remember that fan club members can win tickets to see Sting and Edin in Singapore as well as on several other dates on the Asia/Australia tour by visiting this page.