Luciano Pavarotti tribute hits cinemas and DVD...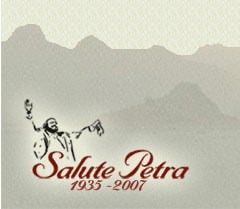 The Luciano Pavarotti tribute concert staged recently in the world heritage site of Petra, Jordan, in front of only 500 people, now will be available to a much wider audience.
A 90-minute filmed version of the October 12 show will screen in 24 U.K. cinemas December 2 in high definition, followed by the December 8 DVD release "The Pavarotti Tribute: One Amazing Weekend in Petra" (Decca). All money raised from DVD sales will go to the UNHCS World Food Program; the commercial deal for the cinema release also includes a charity contribution.
The event "Salute Petra, Celebrating the Life of Luciano Pavarotti" was staged to coincide with the singer's birthday. The world-renowned tenor died at 71 in September 2007.
"The cinemas are looking at more and more opportunities, now that they have got high-definition technology, to have these kinds of events," event producer and promoter Harvey Goldsmith said. He said the filmed show will get a wider release at 60 U.K. VUE cinemas next month, then head to cinemas in the United States and Australia.
A launch screening is being staged Monday at the VUE cinema in London's Leicester Square, hosted by Pavarotti's widow, Nicoletta Mantovani Pavarotti, and Goldsmith, ahead of Tuesday's screenings across the U.K.
The October 12 show at the Amareen Camp featured Placido Domingo and Jose Carreras, who performed with Pavarotti as the Three Tenors for more than 17 years. Among other performers were Sting, Angela Gheorghiu and Andrea Bocelli.
"It was an extraordinary event; it was a really fitting tribute to Pavarotti," Goldsmith said. "It's just such an amazing setting, and we put this incredible show together. We wanted to reflect both sides of his life - his classical side and his popular side."
Given the intimate nature of the show at the ancient site of Petra, Goldsmith said a release of the filmed performance "was always in our mind to do."
The weekend's events were conceived by Nicoletta Mantovani Pavarotti and Princess Haya of Jordan. A memorial took place October 11, featuring tributes from Sting and Bono. So far, the Pavarotti tribute-concert project has raised about 2.4 million euros ( million), according to Goldsmith.
© Reuters/Billboard by Andre Paine