Sting & Edin Karamazov perform in February 2009...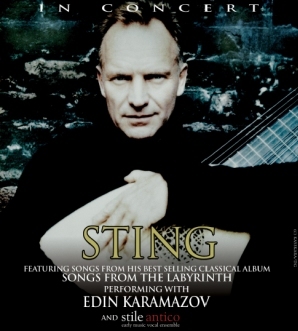 In support of the critically-acclaimed album, 'Songs From the Labyrinth', Sting and Edin Karamazov will perform three concerts in February.
The dates are:
08 Feb 2009 Sava Centre, Belgrade, Serbia (Tickets available from
www.gaf.rs
).
10 Feb 2009 Palatului Hall, Bucharest, Romania (with Stile Antico) (Tickets available from
www.myticket.ro/
).
11 Feb 2009 Vatroslav Lisinski, Zagreb, Croatia (with Stile Antico)
In Autumn 2008, Deutsche Grammophon released a special edition of 'Songs from the Labyrinth', Sting's personal tribute to late 16th-century Elizabethan composer, John Dowland (1563-1626). In addition to the original album of music, this new version features three bonus tracks including Sting's own 'Fields of Gold' and 'Message in a Bottle', which he performs with Edin Karamazov on lute, as well as a special, live version of Robert Johnson's 'Have You Seen the Bright Lily Grow', recorded in New York in September 2006.
When 'Songs from the Labyrinth' was originally released in October 2006 it surpassed all expectations by debuting at the top of the classical charts in the US, UK, France, Canada & Germany. The album remained on Billboard's #1 classical charts for fifteen consecutive weeks and was the top selling classical album of both 2006 and 2007. A DVD, entitled 'The Journey and the Labyrinth', followed the CD and was also released on Deutsche Grammophon. It was filmed appropriately at Sting's 16th-century manor house in Wiltshire (Lake House), in the ancient gardens of his home in Italy (Il Palagio), and at a live concert at St Luke's Church in London.
The idea of including new versions of Sting's own songs accompanied by lute into the project developed whilst he and Edin Karamazov were rehearsing for their first concerts in support of 'Songs from the Labyrinth'. The shift from 16th century lute ballad to Sting's own 'Fields of Gold' lent a fitting context to Dowland's music and showed an astonishing timelessness over the intervening four centuries whilst 'Message in a Bottle' appears in a very new and amusing guise. Robert Johnson's 'Have You seen the Bright Lily Grow' is a song that nearly didn't make it on to the album as it was not written by Dowland but by one of his arch rivals. Ultimately the song was too compelling to ignore and is featured as one of the album's bonus tracks.
The original Deutsche Grammophon release also garnered critical praise. It was hailed as "a remarkable triumph" by London's The Guardian and "exquisite" by Japan's Sankei newspaper whilst France's Le Monde commented, "The poetry of this album, sung with painstaking care, comes from the exactitude & honesty with which the pop artist renders Dowland's texts".