Washington Post: Inauguralpalooza Night Four: Sting and Every Breath You Take...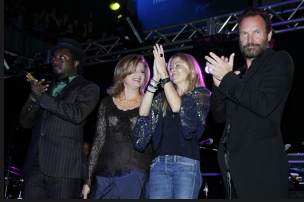 Several thousand of Arianna Huffington's closest friends rang in Inauguration Day at the Newseum last night like a giant New Year's Eve party, where the highlight was a live concert by Sting, Sheryl Crow and will.i.am.
The sea of humanity - mostly media types, incoming Obama administration officials, movie stars (Ben Affleck, Robert DeNiro, Dustin Hoffman, John Cusack, Sharon Stone, Ashton Kutcher and Demi Moore to name a few) and politicos - rocked out to Crow's "A Change Will Do You Good."
Sting brought back a flood of memories with "Every Breath You Take."
Most of the big celebrities watched the concert from a balcony overlooking the stage. Sting was up there before he went on stage. Cusack held court on one of his favorite topics: torture.
He told us he was happy to hear Attorney General Eric Holder say at his confirmation hearing that he thinks waterboarding is torture. And now he wants the Bush administration held accountable for its policies on harsh interrogation tactics. (He blogs often about torture at Huffingtonpost.com.)
At one point, Cusack was locked in a deep, intense looking conversation with Sen. Chris Dodd (D-Conn.) along the wall of the V.I.P. balcony. Didn't seem too torturous.
DeNiro held court to gawkers at a corner table. And Hoffman looked downright uncomfortable. Asked if he was having fun, he deadpanned, clutching his wife's hand, "No." (Not very Tootsie-like of him.)
Hoffman seemed in awe that we were reporting on the party from the palm of our hand (the Sleuth live tweeted last night's event from her Blackberry). He said he didn't know what Twitter was. (And why would he?)
We explained to Rain Man that journalism, what's left of it, is a far cry from the smoke-filled newsrooms of clacking typewriters and rotary dial phones from the days when he played Carl Bernstein in "All the President's Men."
Hoffman said he knew the word twitter, but it used to mean "what you feel when a girl likes you." He touched his stomach and said, "You get a little twitter."
Not so much a party animal, Hoffman said he was leaving town right after Obama's swearing-in ceremony and parade instead of sticking around for the balls.
"I'm ball-less," he said. He tapped us on the shoulder and laughed, "Ball-less, there's a line you can use."
Also spotted: Larry David; Larry King; Montana Gov. Brian Schweitzer, Sens. Maria Cantwell (D-Wash.) and Claire McCaskill (D-Mo.) and Virginia Democratic candidate Terry McAuliffe double-fisting champagne flutes while standing next to Martha Stewart.
John Mellencamp and Val Kilmer were there, along with scores of loyalists from Obamaland. They included: chief strategist David Axelrod; press flaks Ben LaBolt and Nick Shapiro; incoming deputy chief of staff Jim Messina; Austin Goolsbee; Larry Summers; and Gene Sperling.
We learned last night that Sperling will be going to Treasury with Tim Geithner, assuming the Treasury secretary designee can adequately explain why he forgot to pay taxes.
And last but certainly not least, the Sleuth chatted at the end of the night with the god of guitars, Warren Haynes, who'll be playing lead guitar tonight with the Dead at the Mid-Atlantic ball.
© The Washington Post / Photo © Huffington Post