Sting at Guitar Art Festival in Belgrade...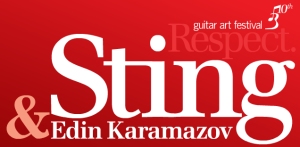 Gordon Sumner Sting, one of the most famous musicians, and Edin Karamazov, the lute virtuoso, were guests at the Guitar Art Festival. The renowned musicians talked and played with students and professors of the Faculty of Music in Belgrade, other festival participants and friends in Dom omladine yesterday.
The journalist from "Blic" was present at this unusual event. For over one hour, Sting and Karamazov played part of the program that they had previously performed at the Sava Center the night before. The guests had a privilege to listen to John Dowland's compositions, as well as of other old English composers, but also the contemporary music program (one of the most beautiful moments at the Sava Center and Dom omladine was the performance of the ballad 'In My Life' of The Beatles). They also played Sting's songs 'Fields Of Gold' and 'Message In A Bottle'.
Sting responded to the compliment of the guitarist Paja Vuckovic, who called him "Mozart of our time".
"Thank you very much for the compliment," Sting said. "When you compose, you sometimes ask yourself why you are doing that, because Bach and Mozart had existed before you. You feel like working in a hopeless shadow of work that they had left behind."
Sting later added that, with due respect to classical musicians ("some of them are my close friends"), he had a feeling that classical music needs instilling new life.
"People are almost frightened of classical music. They observe it as something from a museum, but it can actually be quite live."
Talking about differences between rock and roll and classical music, he said: "Rock music is quite simple. Great, but simple. If you learn three or four chords, you will be able to play. It is completely fine, but at this time of my life, I am looking for something more complex, which would engage my intellect more. That is the reason why classical music is valuable to me."
Sting also talked about his everyday life.
"When I am at home, I live just as anyone else. I take the dog for a walk and do other normal things. When I am on tour, things are different. I wake up in the morning with two coffees, then a rehearsal in the afternoon, and I sometimes drink some vodka (laughing). You have to be very disciplined and organized on tours. I am surrounded by great people and we are everywhere on time. The tour is like a military operation."
Although he has achieved everything that was possible in his work, Sting still has a wish for improvement.
"I am on this planet to learn more. Every day I practice for a couple of hours and try to improve myself. I am learning to play new instruments. Edin has been teaching me to play the lute, which was a great pleasure."
Stings also talked about his plans.
"On Monday I plan to enter the studio and start recording a new album. I still have no idea how the album will sound, but there is beauty in that uncertainty."
Edin Karamazov was quite shy during the interview, but he answered the questions in quite relaxed and joking manner. Explaining the reason why they are surrounded by numerous lutes, he said: "Because we want it to look luxurious and magnificent."
Karamazov had a concert last night in Kolarac Concert Hall, while Sting flew to Bucharest in a private plane.
© Blic by Ivan Ivackovic