The Sage Gateshead is Five! - Kathryn Tickell and Sting to help celebrate the Sage's Fifth Birthday - Tickets on sale today...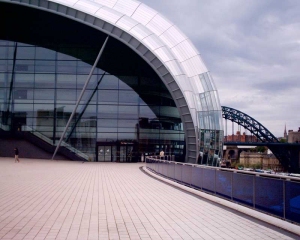 The Sage Gateshead celebrates its Fifth Birthday this year and joining the party are Spiritualized, Northern Sinfonia, Kathryn Tickell with very special guest Sting, Evelyn Glennie and many more... Including YOU!
It's hard to believe with the hundreds of thousands of music making sessions that have taken place both in The Sage Gateshead and around the Northeast, and with almost 2,000 performances to date, that this internationally renowned home for music and musical discovery is only 5 years old!
To celebrate, The Sage Gateshead is holding a weekend of music from Friday 18th to Sunday 20th December
with tickets for the Kathryn Tickell/Sting event set to go on sale via the Sage on 1 July
.
The programme - as planned to date - includes:
Kathryn Tickell: Northumbrian piper and winner of the Queen's Medal for Music, Kathryn Tickell, is joined by friends including international recording artist Sting who, as a solo musician and member of 'The Police', has sold over 100 million records and received sixteen Grammy Awards and an Oscar nomination for his work.
Dame Evelyn Glennie plays with Northern Sinfonia, orchestra of The Sage Gateshead, in a concert featuring James Macmillan's 'Veni Veni Emanuel', John Taverner's 'The Lamb' and Britten's 'St Nicholas' featuring The Sage Gateshead's vocal regional youth ensemble, Quay Voices - on sale NOW!
classic indie-rock band Spiritualized, with orchestra, chorus and special guests, perform their award winning album 'Ladies and Gentlemen We Are Floating in Space', which received massive critical acclaim winning NME's album of the year in 1997 (beating Radiohead's OK Computer), and reaching No.4 in the charts - on sale NOW!
Thomas Zehetmair, Music Director of Northern Sinfonia, brings his Zehetmair Quartet performing one of the best loved of Beethoven's quartets seminal British jazz saxophonist Andy Sheppard responds to the Fifth Birthday by creating an event inspired by the number five; a handpicked quintet perform a five-set concert, capitalising on the flexibility of the pentagonal Hall Two - on sale NOW! workshops and many more opportunities for people to make music themselves.
Further details, including on sale dates for the above events, to be announced in the media or visit www.thesagegateshead.org.
Sting comments: "I'm delighted that the region where I grew up is now home to such a successful and vibrant music centre. The wonderful surroundings of The Sage Gateshead provide an opportunity for musicians and music lovers alike to experience and participate in live music and music making. I look forward to finally performing there later this year."
Kathryn Tickell (who will be storming ahead in her new role as Artistic Director of Folkworks in December) comments; "I'm delighted to be able to celebrate the success of The Sage Gateshead's first 5 years with a special Birthday concert and can't wait to welcome Sting onto stage to perform at The Sage Gateshead for the first time."
Anthony Sargent, General Director, The Sage Gateshead comments; "Above all the awards and international recognition The Sage Gateshead has won in these first five teeming years, more rewarding still is the way it has so quickly been taken to the heart of our local community. It was our local community who unforgettably opened The Sage Gateshead that frosty December night in 2004, and we've designed this celebratory weekend, with its wonderful line-up of exceptional musicians, particularly with our local communities, audiences and learners in mind. The Sage Gateshead is their centre, and this is their 5th birthday party just as much as it marks the coming of age of Britain's most exciting new music centre."
Cllr Mick Henry, Leader of Gateshead Council said; "In just five years, The Sage Gateshead has become part of the physical and cultural landscape of Gateshead Quayside and indeed of the whole North East region. I think the real proof of this success is that it's now impossible to think of the Gateshead skyline without this fabulous building. There's a fantastic programme of events planned to celebrate this important anniversary which will excite the residents of Gateshead and the many visitors from outside the area."
Mark Robinson, Executive Director, Arts Council England, North East said; "The Arts Council England, North East is delighted with the ongoing success of The Sage Gateshead. We are proud of our investment in this world-class music venue which has pioneered innovative approaches to learning and participation as well as providing a fitting home for orchestra of The Sage Gateshead, Northern Sinfonia, and bringing internationally renowned musicians to the region. The range of facilities available at The Sage Gateshead gives thousands of opportunities for participation in music to all manner of people from across and outside of the region."
History:
The Sage Gateshead opened at 5pm on Friday 17th December 2004 to crowds of Northeast people waiting to catch a glimpse inside the stunning Norman Foster building and experience this much talked about inclusive musical party; 15,000 people in total over a weekend full of live performance and participatory events were able to say that they were part of the opening of The Sage Gateshead.